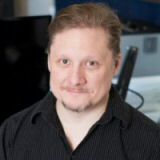 The rule is that Clerics are forbidden to use edged weapons. So, it's wrong for the holy warrior to impale or slash his enemies, but just dandy for him to pound them into mush with a hammer or somesuch. This seemed odd to me, I tried to devise an alternate system where Clerics would only be forbidden to use weapons that were associated with phallic imagery.
Then I realized that, within D&D, this would pretty much force them to be a bunch of unarmed pacifists.
Shamus Says:
I am now, as I was in 2007, your perpetual source of highbrow comedy.
Pfft. Silvershaft. *Snicker*
Shawn Says:
Not too much to say on this one, except I like how Chuck Jones-ish Chuck ended up looking in panel 2. It wasn't particularly intentional, but I dig it.
Also, Ramgar. *snicker*
EDIT 2019: I have a delivery here for an A. Chekov. Where should I put it? Just hang it on the wall? Great. Sign here. Okay, see you at the end of the story.
From The Archives: