Achilles: I think I'm starting to get the hang of this game.
The Grognard: Are you? How so?
Achilles: I have a full party now, and a couple +1 weapons. I've knocked out a few side quests – house full of spiders here, ogre with a stolen magical belt there. Even took a long trek way out to a gnoll fortress to rescue a witch for a guy with a hamster and a head wound.
The Grognard: Most people would be confused by that sentence, but it's good to know you have Minsc and Dynaheir now.
Dynaheir is hidden down in one of these pits. If you don't pay attention to the area's opening cinematic I could see someone missing her.
Achilles: I've also learned a few things.
The Grognard: Such as?
Achilles: Give everyone a ranged weapon, and plenty of ammo.
The Grognard: Ranged is very useful in this game, just as it is in real life.
Achilles: Also, the sleep spell is practically an "I win" button. It's AoE, and enemies only occasionally save against it.
The Grognard: True. But it only works on things with four hit dice or fewer, so it'll abruptly stop being useful later in the game. What else?
Achilles: Mash quicksave every 2.7 seconds, and reload whenever anything even mildly inconvenient happens.
The Grognard: I'm… not sure I like that one as much. Didn't you just notice the immersive quality of the game last time? I can't imagine constant do-overs are going to strengthen the illusion.
Achilles: What's the alternative? Just dying every time there's a couple bad rolls?
The Grognard: Well obviously you reload a save if you die.
Achilles: I'm dying kind of a lot. Another assassin showed up right outside the Friendly Arm, he killed me. Then a pack of vampiric wolves hanging out next to the temple east of Beregost. Then that bandit guy with the fire arrow kobolds. Then something called a "Doomsayer" killed my entire party like eight times in a row.
The Grognard: Well, you shouldn't have removed that evil idol from its ancient tomb! That's like, staying alive 101. I told you, you have to be careful in low-level DnD.
Achilles: Taking stuff from tombs that you're not supposed to is also dungeon diving 101. Good loot 101. I thought you said this was an outgrowth of the tabletop experience. If you ran this encounter with a live group, would you just let them party wipe for that? Scrap the whole campaign and start over?
The Grognard: No – I'd probably figure out some way for them to escape, or something. Keep the Doomsayer in my pocket as a recurring villain.
Achilles: But a computer can't do that sort of thing. It can't even fudge die rolls. It only knows how to be ruthless. Quicksave and quickload makes up for that.
The Grognard: I never thought of it that way, but it does make a weird sort of sense. But it's not something you want to abuse.
Achilles: If you don't want players to abuse something, then don't put it in the game. The ability to have at-will, unlimited do-overs is too powerful not to abuse.
The Grognard: It's why someday I'd like to see a real story-driven RPG with a more restrictive save system. Something more like Dark Souls, or even a roguelike.
Achilles: Your solution to every gameplay problem is to make the game meaner!
The Grognard: In a good game, mean and nice should be in balance, like Yin and Yang. Games nowadays are too nice, like having a five-course meal that's nothing but dessert. But fine, mash quicksave if you have to. I did too, my first couple of playthroughs. How is the story?
Achilles: A little threadbare, honestly. Something or other is wrong with the iron mine down in Nashkel, and I had a weird dream that gave me cure light wounds as a special ability.
Chapter two's 'good' dream, which you get if you have a reputation higher than ten.
The Grognard: "Threadbare" isn't the word I'd use. It may seem threadbare because it's not constantly pestering you to advance it, but there's a real main quest here that will reveal itself over time.
Achilles: I'm not complaining, exactly. It's not like there's nothing to do. It's just that in most games I'd have some idea of what was going on by now. In this one, all I know is that a guy in a fancy helmet wants me dead for some reason. What's more, this game's humor is… strange.
The Grognard: You ran into Noober, didn't you?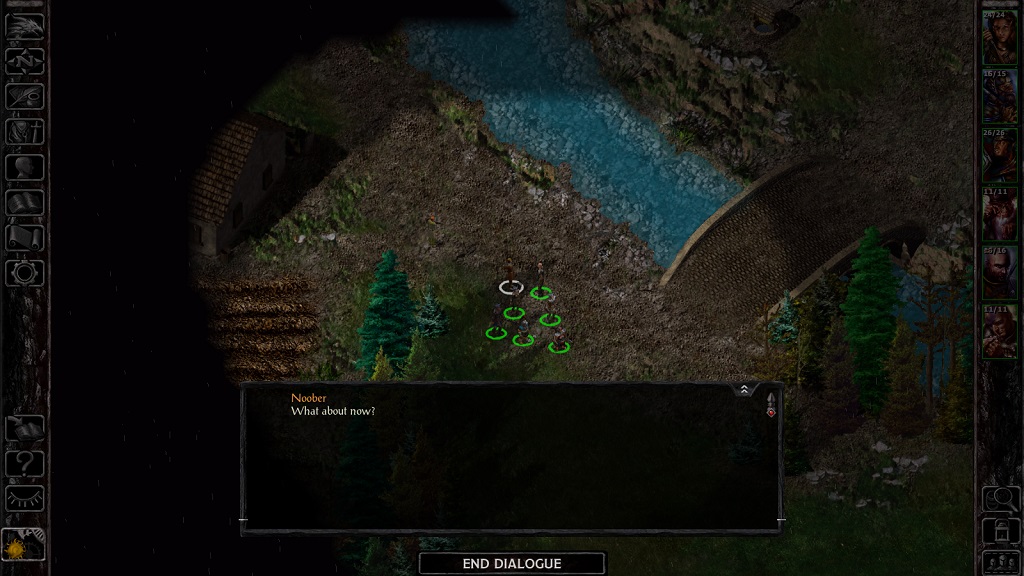 Noober, found on the south end of Nashkel, will force you into dialogue a total of thirty-two times. Put up with it and you'll get 400xp at the end.
Achilles: It's not just him. The journal entries are jokey. The 'evil' dialogue options are jokey. It's like having a vaudeville act as your GM.
The Grognard: Live roleplaying can be an embarassing thing to do. Humor is a way to relieve the awkwardness. I suspect that this style of comedy is another example of a habit the developers brought over from the tabletop experience. Remember what I said about early Bioware? You're seeing what would become their in-house writing style in its rough, first-draft form.
Achilles: Yeah, but you're saying that like it's a compliment. Compared to what I'm used to, it comes off as amateurish.
The Grognard: Amateurs often have a certain kind of energy that you don't see in professionals. A vitality. A healthy disregard for formula. In fact, instead of amateurs, let's call them "enthusiasts." Their work may fray around the edges, but it has a soul. The alternative is a safe, polished sort of game that doesn't do anything unexpected or advance the genre. If you ask me, that's how we got modern Bioware.
Achilles: Those are our only two choices? Safe and boring, or janky and interesting?
The Grognard: It's not janky janky. This game was reasonably polished by the standards of its time. But it also took a lot of risks, some of which paid off and some of which didn't. Take Minsc, for example.
Achilles: Head wound hamster guy.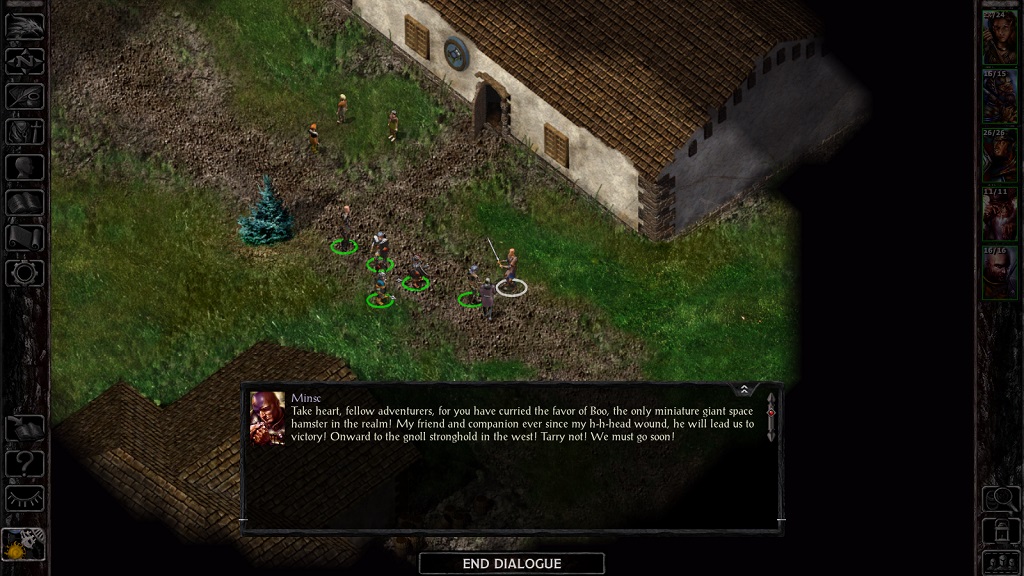 Minsc is so well-known nowadays that it's easy to forgot that the 'rescue Dynaheir' quest was essentially his entire story in the first game.
The Grognard: The same. He's a broadly drawn character; one note, two jokes, and a hammy voice actor. But he's memorable. The first memeable RPG party member, back before we even had a word for that. Later, Bioware sold truckloads of units largely off the strength of their characters, and Minsc was one of the seeds from which all of that grew. That wouldn't have happened under a more cautious developer.
Achilles: Well, Larian's making Baldur's Gate III. What would be your advice to them? "Go a little nuts?"
The Grognard: Go the right amount of nuts. The genre needs a shot in the arm, not just an update or a reskin. And the big publishers aren't going to do it. They're too hypnotized by the bottom line. Larian might just be that goldilocks developer we're looking for.
Achilles: Here's hoping. In the meantime, I've done enough sidequests. The time has come to go the Nashkel mines, and finally dip our toes into the main story.
From The Archives: