I had titled these posts "Baldur's Gate III: Subtitle," but their primary subject is the original Baldur's Gate right now, so I've changed the title.
Achilles: It's time to set off on our grand adventure. One day, you'll look back on this and say "I knew Top Hat Guy back when he was just level one, nothing but a quarterstaff to his name."
The Grognard: Speaking of which, you should probably buy some new gear. The inn behind you is a good place to start.
Achilles: It seems a little strange for an innkeep to have such a wide selection of weapons. Is there something about this "Winthrop" I should know about? I guess it's fine, this is an RPG's tutorial area after all. But I don't notice any wakizashis for sale.
The Grognard: Fortunately, you can buy a scimitar, which uses the same proficiency.
Achilles: It's good to know all that wakizashi practice won't go to waste. This Candlekeep joint is supposed to be a library, a center of learning, isn't it? It seems to be where they teach NPCs how to break the fourth wall. All these robed guys are telling me how to use the UI.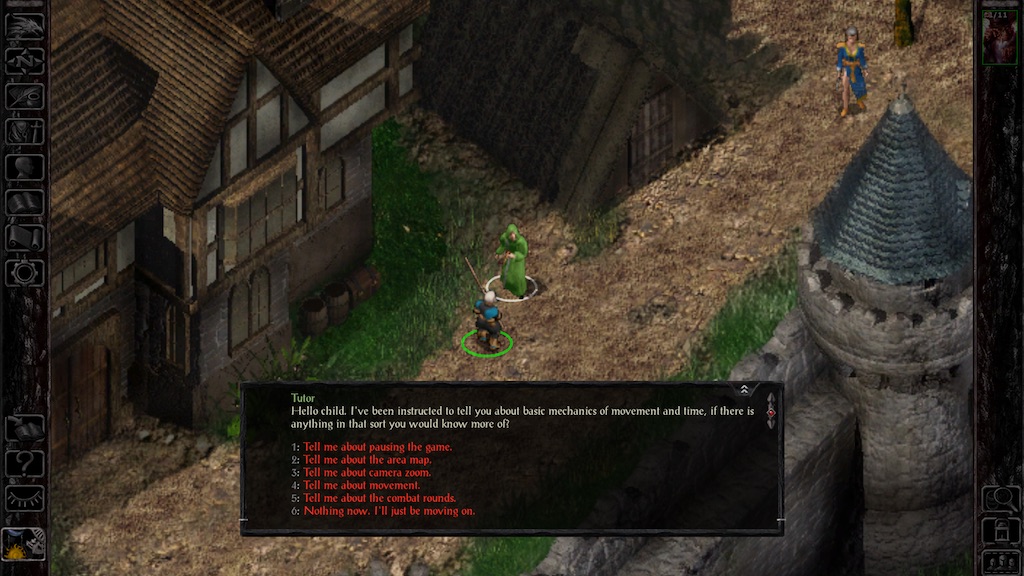 It should be 'anything OF that sort,' shouldn't it? I've noticed this weird sentence every time I've started a new character.
The Grognard: Tutorials in games are rarely graceful things, but they're necessary. You don't want to just throw new players into the deep end. Plus, it's good to get a sense of place from Candlekeep. This is where you grew up. It should feel peaceful, tranquil.
Achilles: Things that are called "peaceful" and "tranquil" are also sometimes called "boring." In Mass Effect 2, my ship got blown up, then I died, then I came back to life, then I rolled off the operating table straight into a firefight, all within the first twenty minutes. The most exciting thing that's happened in this game so far is someone losing a book in a haystack. If you tried to showcase this sequence at E3, you'd put everyone to sleep.
The Grognard: Is that a bad thing? Things that wow the trade show beat in scripted presentations and things that actually make for a good game are not necessarily the same. Baldur's Gate puts tone and mood before explosions and cutscenes. I prefer it this way, to be honest.
Achilles: I don't hate it or anything. But couldn't it start – what's that thing they say, "in the middle of the action"?
The Grognard: The term you're looking for is in medias res. And that's a storytelling trick imported from epic poetry, where the story is being told to you. Here, you have a hand in telling it yourself. Techniques that work in the one format don't always work as well in the other.
Achilles: When I started this section, I considered making a "killing rats in a warehouse" joke, but didn't, because I thought it would be too on the nose. But here I am, literally killing rats in a warehouse.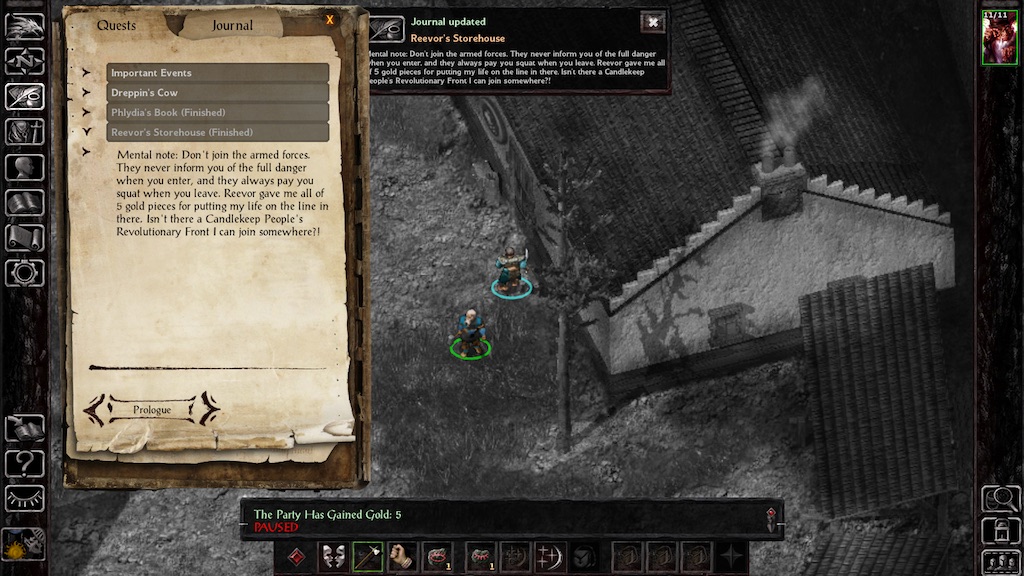 Someone had fun writing these quest descriptions.
The Grognard: At least the game does it in a tongue-in-cheek way. But look – here you go. Someone's attacked you.
Achilles: I noticed. I also noticed all the whiffing sounds. Am I correct in understanding that my character is wielding weapons in both hands, and yet still can't hit an opponent directly in front of him?
The Grognard: You're not making your to-hit rolls. You can set an option to show them in a dialogue box at the bottom of the screen.
Achilles: No thanks – I think that might just be depressing. There, I finally made contact. Look, I understand that my guy is just level one, but I feel a little powerless right now.
The Grognard: D&D has always asked for a bit of visual imagination from its players. What just happened was a fight to the death, between you and the mysterious hired killer sent after you – picture it in your head in whatever way is most exciting. And yes, you're still level one. You have a very long journey ahead of you.
Achilles: The Marvel movies were a long journey, but they didn't start with Tony Stark's humble beginnings as an above-average wood shop student.
The Grognard: You're shortchanging your own character here. Did you forget about your spells? You can blind people, hypnotize them, and put them to sleep, all using nothing but your mind. Remember that even a level one adventurer is supposed to be rare talent.
Achilles: When you put it like that, I can't help but think of the larcenous potential. Remind me to steal everything that isn't nailed down once I get out of here.
The Grognard: How very… chaotic neutral of you.
Achilles: Two different people have tried to kill me now, which makes me question Candlekeep's security procedures. Looking at my character screen, and doing a bit of math, I calculate that I'll reach level two after defeating about two hundred more assassins. At least this Imoen girl seems fun. She calls Gorion "puffguts," I like that. I could use a partner in crime after talking to all those stuffy robe guys.
The Grognard: Take care of her – you'll need her to pick locks and disarm traps.
Achilles: I think by now I've exhausted all the errands I can run around here – time to finally talk to Gorion and blow this popsicle stand. Hopefully he explains why so many people have been hired to kill a level one nobody.
Sarevok's helmet always reminds me of the front grill of a pickup truck.
Achilles: Or not. Didn't see that coming – I figured Gorion would be the wise mentor figure for at least the first third of the game or so. Instead, Evil McBadguy from the opening cinematic just rolled him up like a carpet.
The Grognard: Well, the tutorial's over, so now it IS time to throw you in the deep end.
Achilles: So I'm alone in the wilderness with a teenage girl, no adult supervision, and the guy I assume is the game's main villain is after me. I admit, this is a living a little rougher than I'm used to. A little less direction too – the only thing in the quest log is to go to the Friendly Arm inn, and the only directions given are "north."
The Grognard: You'll find fewer rails in this game than the ones you usually play.
Achilles: At least I can double back and check out Gorion's body. Maybe he dropped some good gear.
*one encounter with a wolf later*
Achilles: Good. Lord.
The Grognard: Well, at least you're still alive.
Achilles: Barely! I have three hit points left out of eleven. A single wolf nearly killed me! Is this nightmare difficulty or something?
The Grognard: You selected "core rules" when you started the game, didn't you? Welcome to low level D&D. Everything is dangerous. Fights are best avoided whenever possible.
Achilles: So I'm not only nearly dead, but I'm likely to be attacked if I rest in the wilderness too, aren't I? What do I do?
The Grognard: All is not lost. You have healing potions. So does Imoen.
Achilles: Are you new to RPGs or something? Potions aren't for drinking. They're for saving for the next fight, all the way until the end of the game. I've played several Final Fantasy games and never once actually used a megalixir. Now I have to drink up after one fight with what should be a trash mob. I've never been more humiliated in my life. I need to find some meat shields, stat. Maybe these two will do.
Even if you don't want to recruit them, you can just ask them to join, take their gear, and boot them from the party right afterwards. They're surprisingly understanding about it.
The Grognard: You may want to learn a bit more about them before you rely on them too much.
Achilles: I see this Xzar guy has a grand total of four hit points, meaning he's likely to get one-shotted if we come across any more wolves. And according to their character bios, one is a criminal, the other is insane, and they're both evil-aligned.
The Grognard: Not many games introduce you to the evil party members first.
Achilles: Or at all. These guys aren't Miranda-from-Cerberus evil, they're evil-evil. Like, cartoonishly so. I don't usually use the phrase "character development" in casual conversation, but the character development here seems a little thin.
The Grognard: This is early Bioware. You're going to see some rough, unfinished versions of things they got better at with practice. And don't worry, this game has loads of recruitable NPCs. You aren't gonna be stuck with just these two.
Achilles: I'm keep them around for now, and hide behind them if we run into any more wolves. I mean to hotfoot it north to this Inn, and find this "Khalid and Jaheira" Gorion told me about.
A 'typical' playthrough will probably reach the Friendly Arm Inn at night. I suspect the timing was deliberate on the part of the devs.
The Grognard: Let's take a moment to appreciate this.
Achilles: The Inn?
The Grognard: The ambiance. It's nighttime. There are frightening, dangerous enemies out in the woods. You can hear the crickets and the owls. But here – the inn – is a place of refuge. You don't think it's well done?
Achilles: I think I see what you're getting at. I admit this game does ambiance well. There were hawks screeching overhead in the woods during the daytime, I liked that part.
The Grognard: And it's all a part of a whole! The wilderness wouldn't feel the way it does if there wasn't an element of real danger. Other RPGs are a power fantasy straight out of the gate. They rarely make you feel like a small part of a big world.
Achilles: We will get to the power fantasy at some point, though, right? If we run into those guys that killed Gorion in our current state, they're gonna mince us up and sautee us with garlic.
The Grognard: There is a deliberately designed leveling curve in this game, yes. You have to be careful, though – just as you would if you were really in this situation.
Achilles: This must be that "immersion" thing I've heard so much about. Okay, I'm interested enough to keep playing. First I'm gonna fill out the rest of my party slots, then I'm gonna try and find out why so many people want me dead.
The Grognard: Sounds like a plan.
From The Archives: