Achilles: This game is starting to click. We're over the first hump.
The Grognard: "Hump"?
Achilles: Most RPGs have a hump somewhere around the ten to twenty hour mark. It varies from game to game exactly when. But it's the point where you get to your first real town, and side quests start buzzing around like mosquitoes. You get overwhelmed, and you feel like you don't know what you're supposed to be doing. But then you knock out a couple quests, and then a couple more, and you get over the hump to the real game. Everything before the first hump is basically the tutorial, whether they call it that or not.
The Grognard: Where was this hump? In the game world, I mean.
Achilles: The southern end of the map. Beregost, Nashkel, that area. Once you get back to Beregost after killing whatshisname down in the mines.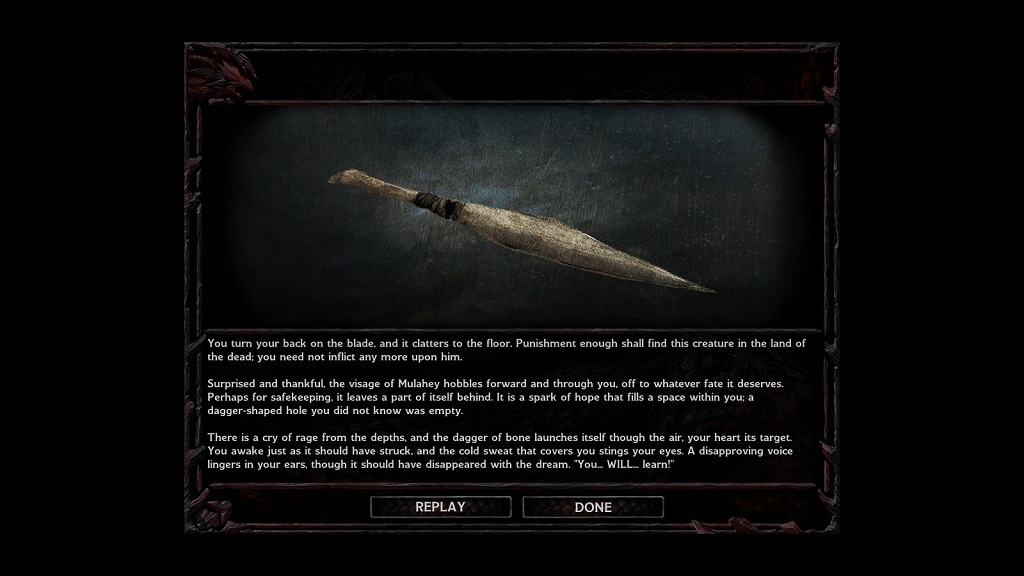 The prose in the dream sequences is a bit overwrought, but they were still intriguing during my first playthrough.
The Grognard: That plot point always seemed strange to me. One guy, hiding in the bottom of mine, can "poison" the entire output of said mine. It seems like there would be a host of practical problems with that plan, doesn't it?
Achilles: It was a little strange, but overall the story is good. It doesn't get in the way – it's like a detective story you gradually unravel while doing other things. Not like some RPGs where they're constantly pestering you and pointing you towards the next thing you're supposed to do.
The Grognard: Listen to you, defending the game while I criticize it.
Achilles: Oh, I've got plenty of complaints, don't worry. But I do like how the game lets me do things at my own pace, in my own order. Like, now I'm supposed to find a bunch of bandits called the "Chill," but all I have is a few leads that say they're somewhere on the north side of the map. So the until I find them, I can putter around doing side quests, which is what I want to do right now anyway. I'm waiting on my second set of Ankheg armor, and maybe one more level for everyone.
The Grognard: I would say that this is a game that respects the player's agency. That's not always true in RPGs, or games in general.
Achilles: Plus, it's full of cool little things. I turned a guy from a chicken back into a human. A guy dropped a "find familiar" scroll, and now I have a talking cat that can sneak around and pickpocket people. The "charm" spell is comedy gold, like I hoped. It comes with unique dialogue, and you can use it to move witnesses out of the way before you get your burgle on. I've put some points into Imoen's lockpicking, and I'm systematically robbing all of the Sword Coast blind. I figure when things go missing they must just blame it on the bandits anyway.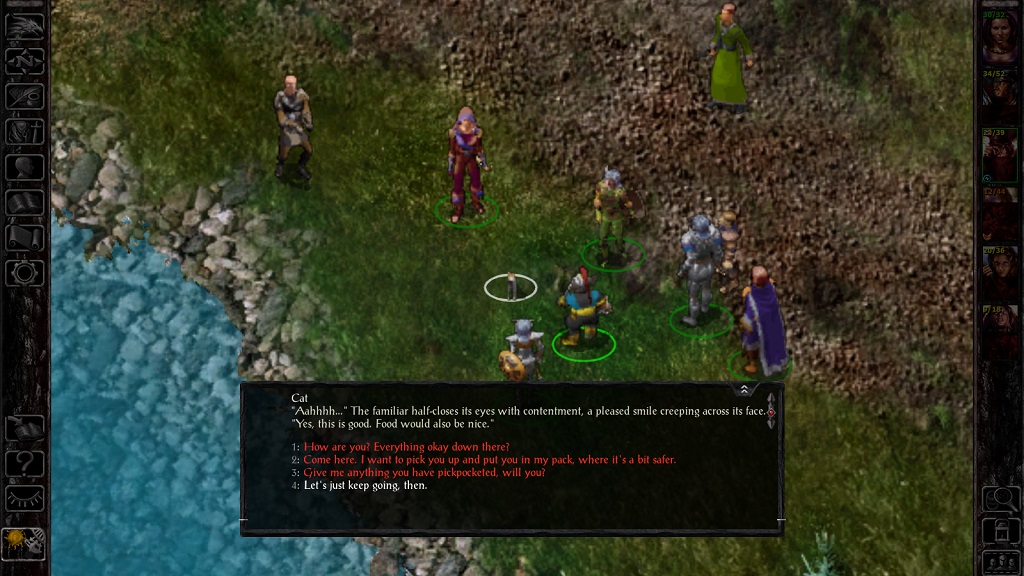 If you're playing the enhanced edition, an assassin in Nashkel will drop a 'Find Familiar' scroll. In the original game, I believe the only way to get the spell was at character creation.
The Grognard: That particular brand of just-for-fun reactivity is something of a lost art these days. It's also a side benefit of using a pre-established setting and ruleset – plenty of material to draw on. Are you familiar with the Forgotten Realms?
Achilles: I know the general gist of it. There's lots of magic, every third character is a dragon, and people say "mayhaps" instead of maybe. Oh, and at some point Drizzt or Elminster will show up.
The famous Drizzt Do'Urden, seen here standing in the middle of an unsettlingly large pile of gnoll corpses.
The Grognard: As if on cue. So you like the setting?
Achilles: It's a bit standard, but I've seen worse. Some of the maps are good. Some are a bit… empty? Like, I'll spend twenty minutes trudging around yet another forest, and there'll only be one or two actual things to do in it.
The Grognard: That much is true. If you don't like slowly zigzagging through sparsely-populated wilderness, this game can get a bit slow. My gut says it was a pipeline issue – they probably finished the maps before they could populate them adequately, and didn't have enough content to fill them all out before they shipped.
Achilles: Speaking of not having enough time to do things, there are timed quests! Consistently one of my least favorite things. Xzar and Montaron ditched me because I didn't get to Nashkel fast enough. Okay, fine, no great loss, but Jaheira was complaining too. And to keep Minsc in the party I had to high-tail it to the gnoll stronghold way down in the southwest corner of the map.
The Grognard: There aren't that many timed quests in the series, but there are some.
Achilles: There should be none. I don't like being rushed. Top Hat Guy doesn't do well with adventuring on a schedule. He's more of a fly-by-the-seat-of-your-top-hat sort of guy.
Ulcaster: a typical early/mid-game dungeon. Cramped enough that the party has to walk single file in parts, a practice that works better on the tabletop than the computer screen.
The Grognard: So you want a detailed, reactive, and immersive setting – but you want the important events of that setting to sit there, twiddling their thumbs, until you're ready to address them.
Achilles: Pretty much, yeah. They couldn't write their way around this problem somehow? These games are supposed to be fun. Stressing me out with fidgety details isn't that.
The Grognard: The stress can create a sense of urgency that adds to the experience. Take the original Fallout – you had 150 days to find a replacement for the vault's water purification chip, then 500 days before the Master attacks Vault 13. The whole plot was built around it, and it helped create the dark, desperate vibe of the series.
Achilles: That's fine for Fallout. But this is a different series, with a different vibe. Plus, if you're going to have timers, you should commit to the idea, not just throw them in randomly here and there. The ones here mess with the flow of things.
Elminster - Forgotten Realms' Gandalf-type - periodically shows up to say cryptic things.
The Grognard: That much I agree with. Timed quests are rarely done well – Fallout is an exception that proves the rule. But I wish some developer or another would explore the mechanic again. I mean, without them, what's the incentive not to just rest after every fight?
Achilles: There isn't one. Well, there are random attacks, but you just reload a save if you get one of those.
The Grognard: So why have resting at all, if there's no penalty for spamming it? Why not just have health regenerate when you're out of combat?
Achilles: Preaching to the choir over here, my friend.
The Grognard: Later on, Bioware went that route, and I can see why. But it feels like they were halfway to an interesting resource management mechanic and then just gave up.
Achilles: Thank god for that. The phrase "interesting resource management mechanic" gives me the heebie jeebies. I've seen enough of this game's inventory system to know that "interesting resource management mechanics" aren't exactly their strong suit. Not after I just spent ten minutes individually selling about a hundred silver rings at Feldepost's Inn, or got in the habit of picking party members partly by their carry weight. Pick up one ankheg shell too many, and you have to rearrange six backpacks to make room.
The Grognard: The inventory juggling could've been toned down, no arguments there. But do you see the pattern that's developing? Whenever a tabletop-inspired mechanic doesn't quite work, your instinct is to throw it overboard, rather than to come up with an adjustment or workaround. Bioware had the same instinct, and I believe the seeds of their future problems can already be seen here.
Achilles: What's the alternative, though? Preferably one that doesn't involve piling more busywork on top of the player?
The Grognard: Oh, there's a whole other tradition that exists right here in the Infinity Engine. It's the Black Isle tradition. But there'll be more to say about that later in the game.
From The Archives: