Can you see what's going on here? Yeah, me neither.
Combat in Arena means the player flicks the mouse to roll a die. Combat in Daggerfall is that, but bafflingly clunkier on top of being both reliant on and very poorly served by the player's lukewarm mouselook. In Morrowind the graphics are just good enough to show you that you shouldn't be missing all the time. At the time of Oblivion's development, combat had been been both a staple of and pretty consistently the worst part of the franchise. It was clear something had to be done.
Oblivion was the first Elder Scrolls game to introduce a clean action-oriented combat system where attacks hit where they're aimed and do set amounts of damage. The game introduces special moves, attack rhythms, active blocking, and staggering mechanics with the goal of creating something that wasn't just functional and modern, but a genuinely engaging, immersive set of play mechanics.
Oblivion has the worst combat in the series.
The worst part is that they were tantalizingly close to creating exactly what they'd intended: fun and involving brawling that's just chaotic enough to give the player a sense of control. The central mixup between fast attacks and power attacks is pretty basic, even for the time the game was released, but along with the game's footwork (which depended on character speed, adding another variable for melee fighters to consider) it provided enough depth to make even small encounters theoretically interesting. The game's active blocking introduced a few other worthy variables–reflex tests for quick blocking, tactical considerations when you or your opponent begin holding block. Then there's the special attacks, which let you achieve specific goals–knockbacks, disarms–that really contribute to the sense that you're an experienced warrior controlling the battlefield. Spells feel pretty solid, although the delay between pressing cast and actually seeing the projectile launch–while shorter than Morrowind's windup–is grating.
It's a shame, because there's really just a few crucial details that damn the thing. It breaks down like this: the designers wanted every successful attack (which means every attack the player successfully lands on target) to do damage. "Players are sick of swinging their weapon and having it do nothing. Let's make every attack with a valid weapon do damage." The designers also wanted every encounter to be scaled to the player's level so that every monster is an appropriate but not insurmountable challenge. "Players want to be able to roam totally freely in a free-roaming game, and we don't want to lock off any of our content by level, so let's make it so that every combat a reasonable character runs into is somewhere between easy and moderately challenging." Neither philosophy is unreasonable or even contradicts the other. The problem is they make a mistake with the first that's made exponentially worst by the second, and it's this:
Attacks don't do enough damage.
Oblivion might not have any towns as weird as Morrowind's most mundane, but it's got a lot of places you'd like to bed-and-breakfast in.
Presumably Bethesda's goal was to make a combat where everyone's hitting all the time take as long as the old Morrowind combats where hits were less guaranteed. They more or less succeeded, but there's a few things they overlooked. Firstly, hitting someone and watching it chip their health only a little is, if anything, more obnoxious than missing entirely. Needing to hit something a dozen times with an axe the size of a postal box is frustrating. Needing to do it a dozen and a half times while your opponent active blocks is twice as frustrating. Needing to pause between every attack after the third to recuperate fatigue while dodging your opponent's counterattacks and very sluggishly restoring your own health with your low-level restoration spell and your automatically refilling molasses–sorry, magicka bar is tooth-grinding, particularly when your opponent is doing the same. Now your axe is getting dull and your damage is sharply reduced. Now your armor is getting busted and you're taking more damage. Alright, he–he just took a potion. Okay. He's finally dead. Now get ready to kill the next fifteen of him between you and the end of the dungeon.
Not every enemy's like that, but enough are that all the joy is gone from random violence. And lord help anyone who takes Marksman, because you're about to discover grindhearty combat is even more frustrating when you spend it hopping backwards through a narrow dungeon watching half your inventory leap into your opponent's character model. Something about ending a combat 200 yards from where it began to find a corpse plumed with dozens of magic arrows lends an archer to believe their time is not highly valued.
But even this could have been bearable, or at least potentially not unbearable, if it weren't for the level scaling. Because enemies are of uniform difficulty, and increase their stats to match your character's level, there is no refuge in overleveling, no escape from tedious pool-noodle slapfights. You can't wait until you're such a high level that every enemy drops before you. You can't obtain a weapon vastly out of proportion to your own abilities. Worse, if your build is anything but optimal–if you're not really pushing your combat skills to their limit with each level–you're going to watch your opponents get gradually tougher and tougher forever and have no easy way to get that ground back.
It gets even worse if you are playing optimally–because playing optimally means getting the best ratio of your damage to your opponent's health. Your damage is dependent on your skill, your opponent's health is dependent on your level. See where this is going? The best way to play the game for any non-magicka user is to never level up, because leveling just gives you the option of marginally increasing a few combat-related variables that will always increase, and by a larger margin, in your opponents.
I said that Morrowind's disconnecting a player from their character through arbitrary failures was about as bad a sin as an RPG's combat system could commit, and that's still true, but I think punishing players for trying to level up is a pretty solid encore. Whether or not people like the general package is down to individual experience, although I think everyone has at least a few truly obnoxious combats, but the design is completely indefensible.
And frankly, Oblivion's dungeon crawling needs the help. The game adds some neat traps and a more diverse range of tilesets to shake things up from the parade of grey caves and brown tombs in Morrowind, but all sorts of little things drag down the experience. The way the 3D environments don't map too well to the monochrome tiny 2D map. The way the same level-scaled monster is seeded every ten feet of the overlarge map. The sometimes unambitious audio design. The way the loot in the game is heart-stoppingly shitty.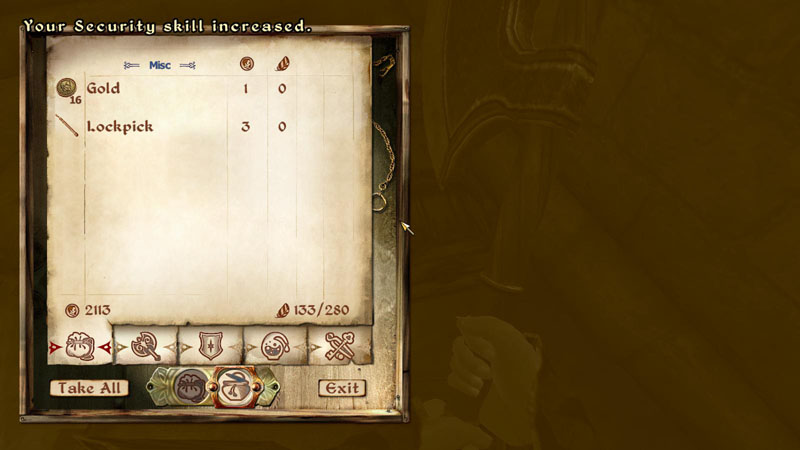 My decent-level character went out and found the first decent-quality lock I could, just to show you what was behind it. Are you overwhelmed?
Actually, that's a pretty broad problem, and another consequence of the game stripping away Morrowind's laissez-faire distribution of loot and treasure in favor of something encouraging balance and predictable character growth. Being a thief in Morrowind meant exploring houses to root out a few valuable items–often potions and liquor, books, sometimes small gems and worthy gewgaws. It hit a pretty good balance: most things were worth somewhere between five and twenty coins, but the big-ticket items were a heavy chop above that. An average potion is worth about fifty gold. A pearl is worth a hundred septims. A nice book can be worth 300. The right bottle of liquor or drugs can get as much as 500 gold and neither are exceptionally rare. For storefronts, everything you can buy from the owner will generally will be present somewhere in the shop itself–with a little ingenuity you can make a small fortune by clearing off one or two shelves. And if you're not the thiefly type so much as the secondhand bandit type, the crates of random jerks in the countryside scaled from "an assortment of worldbuilding loot like clothes and trade goods that's not really worth much" to "a selection of very valuable and useful items clearly worth ending a dozen intelligent lives for." Morrowind's loot never felt like too much, since there were plenty of very expensive purchases to save up towards, but thieving was a consistently rewarding pursuit–enough so to balance out just how abstract it felt in a world where NPCs never moved much and every store was always open.
Oblivion is a much more immersive environment to be a thief in. NPCs have day and night cycles; there are times where their doors are and are not locked and when storekeepers are and aren't around to watch the merchandise. They'll follow you around if they think you're being suspicious. They'll call guards if they catch you stealing something. And yet I've never played a thief since my first time with the game, because the thieving is only fun until you're sizing up your first score. Valuable items just don't really exist outside of a few random and limited collections here and there. Clutter in the game has a value between zero and well below a hundred gold, including ostensibly valuable items like gems, rare books, and fine wines. Most things you can steal are literally worthless or the closest thing to it; breaking into the basement of a noble typically turns up a caliper (there are a lot of calipers in the game and they are completely useless), six balls of yarn, a cabbage or two, and two gold coins. It's usually not even worth breaking into locked containers–half the time all you get is a petty amount of money and one lockpick to replace the three you spent getting in. Everywhere the game frustrates your attempts to make a living through thievery; the game is fond of putting expensive or valuable-looking weapons and armor in display cases, only to reveal once you've broken in at night and broken the max-difficulty lock on the case that the contents are worthless garbage that just look valuable. It might be a neat subversion in a game less thin on genuine player satisfaction. As for random bandits, the best loot is always going to be the level-scaled stuff they're wearing, because their chests and crates are going to be stuffed with the same junk as random boxes in town. You haven't played Oblivion until you've ventured into the woods and found an entire cavern system full of scruffy local bandits dressed in demon-forged hell armor, wielding weapons finer than those the Emperor's own bodyguards employ, only to discover their treasure trove consists of one clay mug and a pair of sandals. And once that's happened to you–it'll happen again. And again.
NEXT WEEK: LEVEL SCALING HOEDOWN, FINAL IMPRESSIONS
From The Archives: