Morrowind and Oblivion drew their storytelling cues from media besides videogames, because that is, by and large, what videogames do. It's too hard for most games with ambitions of epic scope and narrative content to convey these elements entirely through gameplay; they instead use gameplay as an aid to transport players into storytelling grounded in traditional methods. Which, with roleplaying videogames, is generally what the player wants: to have a story that could be a book or a movie improved by interactivity. And that's just the point where RPG fans get into the biggest slap-fightiest arguments: book or movie.
Morrowind was literary; it told its story through context and history and shovelfuls of dialogue. most of the story happened when you were standing still somewhere reading something. Oblivion was cinematic–an active, moving, speaking story in which you were the primary character–and it sacrificed a lot to get there.
It had voice-acting for all its dialogue, which forced a thousand compromises from shortening dialogue length to limiting dialogue scope to homogenizing the voices for various races and characters. It seized control of the player to allow cutscenes to occur uninterrupted. It filled a large portion of its campaign with rinse-and-repeat prefab dungeons to allow the other missions the maximum scripting and dialogue budget. Not all of the cuts were logistical, either; some of them were more abstract and philosophical. For example, the increased value and vitality of actors (plus a few other technical reasons not worth getting into yet) meant the developers put stricter regulations on who could be killed. Any NPC who would become relevant to a quest was invincible until they had discharged a necessary portion of their scripting. Technically neither of the first two games gave you leeway to kill random people either, quite possibly for engine reasons, but Morrowind was so bold in making everyone killable that it didn't seem the developers would retract the privilege. It seems fair, doesn't it? Your input in the game is very limited. You can't arrest NPCs, be meaningfully rude to them, spread gossip about them, ask them to stay away from you, fire them if they're part of your guild, or give them wet willies. Your choices for expressing your opinion on or judgment of an NPC amount to murdering them or not murdering them, and taking away the choice of murdering them is nontrivial. It feels like a fussy exercise of power–a storyteller convinced whatever they've got planned is much better than what you're trying to come up with.
All these cuts and constraints could have easily amounted to a net loss for the franchise. In the eyes of some, they certainly do. But it's also fair to say that as long as Bethesda was trying to make the best of their scripting and create a broad adventuring simulator, they did a pretty good job of it. It all came down to working with their limitations.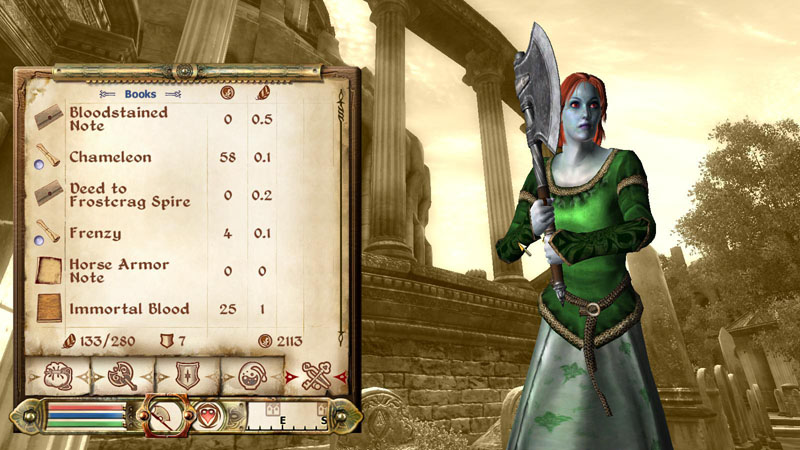 This is the inventory. The icons take up approximately 800% of the space they did in Morrowind and are balkanized into tabs. This is useful if you've got a controller and a headsplitting aggravation if you've got anything else.
Bethesda knew that if quests were going to be linear for the sake of being more narratively focused, they should have a few components. Firstly, they should be logically linear–there should not be any obvious third choices or alternatives to tantalize the player. Secondly, general-purpose quests should be ethically neutral, or else good and evil characters are going to demand alternate routes the developers don't want to put in. Thirdly, the resources used to present a story with each quest shouldn't be wasted–as long as voice actors are collecting paychecks and scripters are making flowcharts there should be some mystery, novelty, humor, juicy twists. These tenets are all important, and Bethesda did a pretty good job of remembering them.
There are more memorable general quests in Oblivion than any other ES title. The woman who's followed by scamps all the time. The guy trapped in his painting. The invisible town. The cultist yokels. The fake vampire hunter. The fake vampire murders. The ghost mountain. These aren't particularly special quests and aren't associated with any of the obligatory features, like the guilds or shrines or main quest. They're just random mini-stories you bump into. Any one of them could be a worthwhile one-off episode of a fantasy TV series. Clearing your quest log feels a lot less like a chore than it did in previous games.
As for the obligatory factions, they're the best in the franchise. It's true that there's half as many guilds in Oblivion as Morrowind, but Morrowind had half the guilds of Daggerfall and that was to everyone's benefit. The principle remains broadly true here. The Thieves' Guild quests actually ask you to perform interesting heists with an overarching story of corruption and Robin Hood heroics, the Dark Brotherhood is a deliciously evil and creative murderfest with some ghoulish and even chilling moments, the Mage's Guild has a basic but fun story of warfare against a returning character from Daggerfall, and even the Fighter's Guild throws a few interesting right-hooks and twists in. The Daedric shrine quests are pretty fun too–they offer a good range of evil and virtuous one-offs with the occasional descent into madness, just to remind you who you're dealing with.
And the main storyline…
Well.
This is the map. It's given a small window of fixed size, it's zoomed in at a fixed and next-to-useless level, and it doesn't update itself or fill in to show the territory you've explored. It's complete shit and there's no excuse.
Here's where things get complicated. You'll note the language I've used to praise the game's storytelling falls within a limited range. Fun. Creative. Twists. Moments. Episodes. This is part of the game knowing its limitations as a storyteller. If it can create a lurid memorable character and have something strange happen to them, it can capture your attention long enough for you to have a good time. The guilds, which are more long-term, sink or swim based on how interesting you find the gameplay niche being targeted and how clever you find the little hooks they scatter around the disposable narratives. So what happens when the developers can't rely on those?
The answer depends very much on who you are and a hundred variables that follow. How long do you want to listen to Sean Bean muse on his emotional journey without getting to guide or advise him? How interesting do you think the end of the world due to a mad prophet really is? Is jumping into another Oblivion gate a dangerous but familiar task or a tedious chore? Will you enjoy Oblivion's quests and combats without the context changing up every fifteen minutes to keep things interesting?
I find that most people finish Oblivion's main quest–eventually. They do the quests in fits and starts between fistfuls of the more digestible, dynamic, novel sidequests. The main quest is fine, but it might well be the least interesting part of the game. And that's arguably the first time in the series this has happened.
These are the loading screens. They are very produced and yet surprisingly ugly. One can pretty clearly identify the relevant Photoshop filters.
It's more complicated than it sounds. Morrowind had some real hit-or-miss quests in its main storyline–it was about one-third pure dungeon crawls and one-third grinding with factions you might or might not like very much. What makes its main storyline memorable and interesting was that it was tied so strongly to the greater context of the world. Everything in Morrowind spoke to the core struggle against Dagoth Ur: the red skies, the blight storms, the hatred locals feel towards you–an outsider–the guilds seizing advantage of Vvardenfel's corruption and nepotism. Playing the main quest put so much into perspective that to those who've finished the game it rates an essential part of the experience. The same can't really be said about the main quest of Oblivion. Despite the fact that the game's storyline centers around the succession of the Empire, and that it destroys a whole city (before the game begins, of course) to put the conflict in perspective, nothing about Cyrodiil's culture feels imperiled or informed or central to the main quest.
Which is fine. That's my opinion; the main story is fine. It's got some good moments and it's got some real slogs. But I wouldn't put much blame for the slogs on the quest structure; no, there's a deeper mechanical reason for that. Let's talk about Oblivion's design…next week.
From The Archives: