Before we move on to Mass Effect 2, let's talk about what what we might expect to see as someone who just completed the first game and had no idea where the sequels were going to go.
The Plan is to Come Up With a Plan Later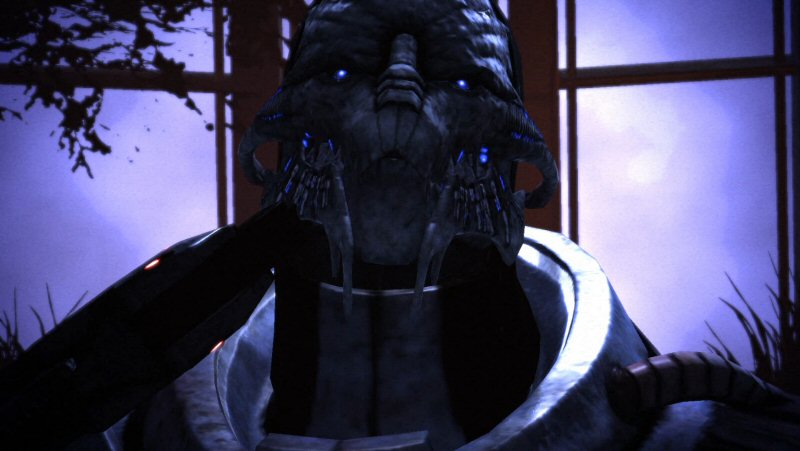 Saren performs an emergency RENEGADE INTERRUPT on himself.
In the past I've said that BioWare's problem was that they didn't have a plan for Mass Effect. After re-playing the first game and looking back at the arrangement of plot elements, I have to say it's pretty clear I was completely wrong. Somebody did indeed have a plan. No, they didn't know the secret behind the Reapers or how the heroes would stop them, but they did have a framework to build on. They had clear direction for the story. The first game spent a lot of time establishing a very particular arrangement of elements and characters to facilitate the quest-driven nature of this series. It was ideally suited to explain why a squad of three people on foot was the best way to solve the problem of genocidal machine gods.
Reapers are an unbeatable race of machine gods that are coming to wipe out all life. However, it's completely up in the air as to how long it will take them to get here. More importantly, we have no means to fight them. This creates questions in the minds of the audience, and those questions perfectly line up with the needs of the plot and the motivations of the central characters. Shepard's last line in the game drives this point home, "The Reapers are still out there. They're coming. And I'm going to find some way to stop them!" The final line of the game explained what the sequel would be about.
Prothean ruins are scattered throughout the galaxy, and they hold secrets that can advance the plot. They can have technology which grants us new weapons. They can have a VI like Vigil that can bestow explicit information, or they can have beacons that dispense vague hints. They can have hidden mass relay jumps to secret locations. They can appear on distant uninhabited worlds, be found near colonies, or be hidden beneath existing cities. Most importantly, they can hold as much or as little about the Reapers as the plot requires. Basically, they give the writer the excuse to send us anywhere. They can design a variety of fun quests, set pieces, and locations, and then just stick a Prothean ruinBy "Prothean ruin" I mean any item from any of the previously reaped races, even if it's not necessarily Prothean in origin. or artifact nearby to give the plot a reason to go there.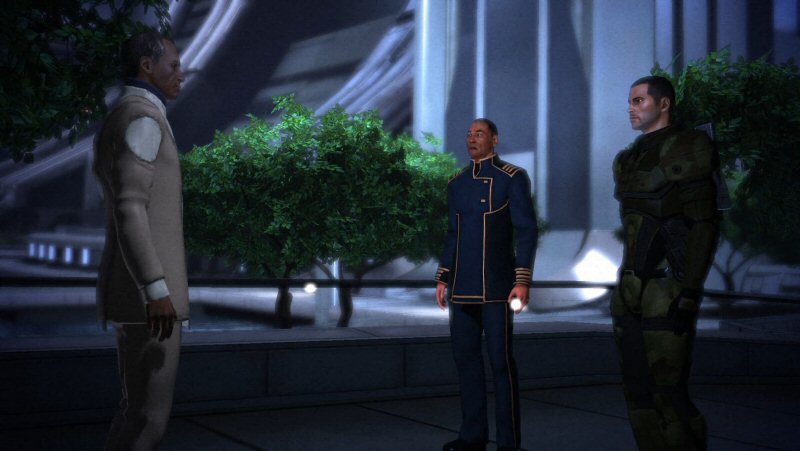 The other races all look up to us now. But, you know, not in a way that would give us any power or even encourage them to listen to us.
The Council got to see a Reaper up close. Maybe they believe in the doomsday legend and maybe they don't, but they have witnessed first hand that there is a massive new military threat in the galaxy. Udina even says that "The races are scared. They've never faced anything like this before. They don't know what to do. They want us to step forward." The council also might have died and been replaced by one that's human-influenced to some degree. The writer has leeway to make them provide you with help if the story calls for it, or leave you to conduct your search alone if that suits gameplay better. The only thing this ending doesn't allow for is that the leadership would dismiss Shepard and decide to do nothing.
Shepard can understand Prothean thanks to the Cipher. The conversation with Vigil makes it clear that Shepard hasn't just seen a bunch of random hallucinations. Through his struggles he's gained some sort of insight into Prothean language. If the writer needed, they could even use the Cipher to say Shepard is able to use Prothean devices or open doors that nobody else can. This gives the writers a free pass to put Shepard at the center of any effort to learn about the Reapers. Large-scale RPG's always have the question: "If this is so important, then what don't they send in the army?" Mass Effect 1 carefully constructed a scenario to address this problem. You don't need an army to investigate ruins and look for clues in deep space. You need a small team, and Shepard is the most logical leader for that team. Boom! No need for a "chosen one" trope. Shepard just happens to be the person with the skills and resources to do this, and it has nothing to do with fate or superhuman ability.
Shepard is a Spectre. The Spectres are this group of agents with tons of power and little accountability, who are respected in some places but not others. This is like a "create a plot point for free" card for the writers. Do we need to explain why this ruin has been undisturbed for centuries before Shepard came along? "Nobody is allowed in here but since you're a Spectre I'll make an exception." Do we need to justify obstructionist jackasses making us do side-quest stuff even though we're trying to save the galaxy? "I don't trust the Spectres or the council because they failed us when [backstory]. Your Spectre status means nothing in this part of space. Instead, you must [do this quest thing] before I'll agree to help you." People can be as difficult or as accommodating as the gameplay requires, without breaking any characters or creating annoying plot holes.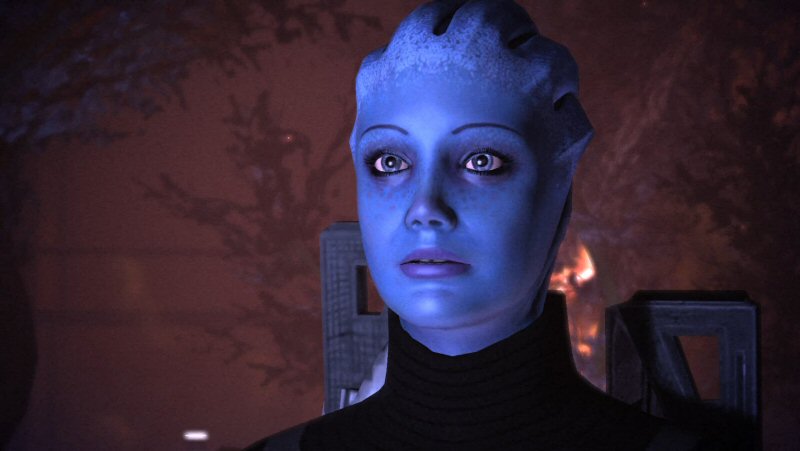 By the Goddess, Shepard! I cannot believe how awesome you are. Let's run away together and look for Prothean ruins before the Mass Effect 2 writers show up.
Liara is an expert on Prothean ruins. Right there, built into the core of the squad, is a magical exposition and quest dispenser. Do we need to send the player somewhere? Liara knows about some ruins there. Let's say we want a ruin with a Prothean door that's been sealed for 50k years (to explain why it hasn't been looted yet) and we need some way for the heroes to open it now. Liara can find the door, explain the backstory of the ruin, and provides an excuse for why our team can go inside even though nobody else can. Liara can read symbols and explain why we have to do the requisite door-opening puzzle. Do we need to understand some new techno-gizmo? Liara has seen diagrams, or read rumors, or whatever. Her career is directly relevant to the plot in a way the other characters aren't.
The Normandy is a one-of-a-kind stealth ship with the best pilot in the Alliance. Do we need to send the crew where nobody has ever gone before? The stealth ship and Joker's skill can explain why the journey is possible for us when it was impossible for others. On the other hand, the stealth systems aren't a cloaking device and the ship can still be spotted visually. So the Normandy is as visible or as hidden as the plot requires, to allow or gate progress as needed.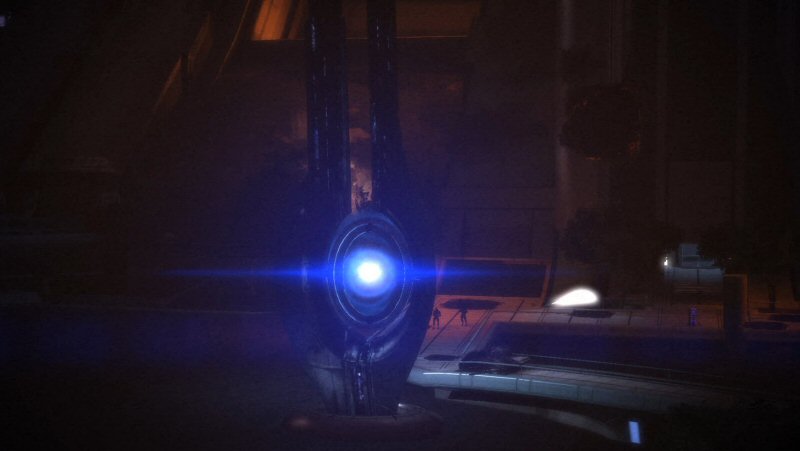 Some people thought the Protheans built the Mass Relays, but research suggests they were actually the creation of a being known as J.J. Abrams.
Mass Relays are mostly closed because of the Rachni, which means there's a great big chunk of the galaxy out there that we've never seen. If the writers really need to fling the characters into the unknown, there's always the possibility that they could open a relay and go someplace crazy in the quest to find a way to beat the Reapers.
Indoctrination can mind control anyone, so if the game designers decide that Geth fights are getting stale, we can justify having just about any race we like as a Reaper-serving mook. There's no telling how many followers or sleeper agents Sovereign might have created before the events of Mass Effect 1.
A Way to Beat the Reapers
YOUR ATTACKS WILL TEAR ME APART.
The writer also gave themselves a couple of tools for justifying why the good guys might win this time, when so many countless cultures have fallen to the Reapers. In a Details First story, saying "We won because we're super-motivated badasses" will come off as lame. Sure, we do need heroes to be strong and passionate, but it's safe to assume that over the last few millions of years, some other passionate, clever, and motivated folks fell to the Reapers. In fact, that's part of what makes the Reapers so horrifying.
The Reapers actually have an insidious setup. They have a network of relays that control the flow of traffic through the galaxy. At the crossroads they have the Citadel, a spacious, self-sustaining palace of comfort and free energy. Naturally, this place would make a fantastic trade center or seat of government for whatever sapients find it. Whoever controls the Citadel will have an advantage over the other species that might show up, which gives it strategic value, which means political power will gravitate there.
So the Reaper alarm clock goes off every 50k years. They jump directly into the Citadel, wiping out the government and silencing all communications before the dumb meatbags even know there's a problem. By the time Joe Sapient gets his pants on and arms himself, his government has stopped existing.
Once they control the seat of power, the Reapers can indoctrinate whoever they please and read everyone's computer files, thus telling them the location of every single known settlement in the galaxy. From this point, it's just a matter of mopping up. Once the last of the sapients are dead or indoctrinated, the Reapers obliterate the ruins, clean up the Citadel for the next batch of suckers, turn off the lights, and then retreat to dark space and set the genocide alarm for 50k years.
Having Shepard die at the hands of nameless Geth mooks is a pretty silly way to end an epic story like this. But it's not the WORST way to end it, either.
It's a setup so good that over the course of countless cycles, no species has ever stopped them. We can assume it would be just as hopeless this time around, except for a few small details that have changed.
Our first lucky break is that the Protheans did us a solid and sabotaged the Citadel. They tried to hide from the Reapers on Iilos, and that nearly worked out. But when it was clear they were doomed to extinction, they fixed the Citadel so the Reapers couldn't just pop in like they usually do. If not for this, then Humans would likely have opened up their Mass Relay a couple of hundred years ago and wound up stumbling out into the galaxy mid-reaping.
But the Prothean sabotage delayed the Reapers, denied them their backdoor, and left scattered warnings for the people of the next cycle. This didn't give us the means to win, but it did give us a window of opportunity to look for a way to win.
The other lucky break for the inhabitants of this cycle is that the Asari were the first species to rise to power. It's hinted that sooner or later, usually one species winds up in charge. Like a game of Master of Orion that runs long, someone is bound to tip the balance and grab all the power for themselves. At that point everyone else ends up dead or enslaved. This means that it's just one species ruling the Citadel when the Reapers throw their surprise party.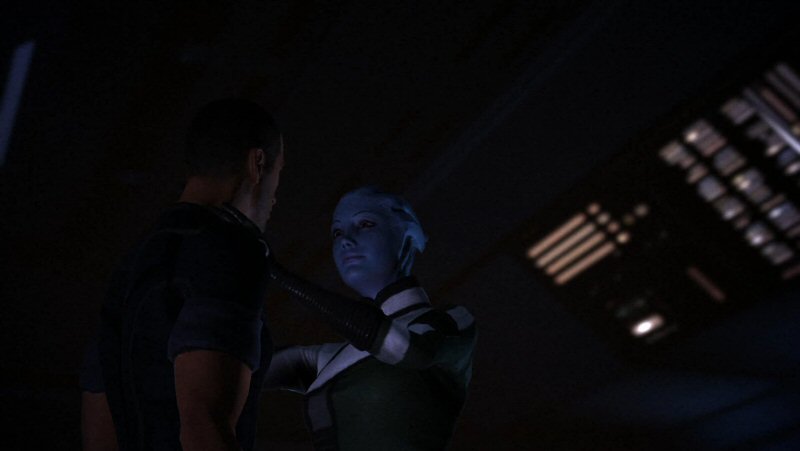 Stop Liara... ghk... you're... hrk... choking... me!
But the Asari have an unconventional way of procreating. They prefer to mate with other species, which means they value species diversity. They're also incredibly long-lived, which tends to put them in charge. So this time around the galaxy is run – or greatly influenced by – a powerful species with a fixation on peace and cooperation. They're strong enough to rule, but have this interest in promoting peace and lifting up other species instead of subjugating them. .
This creates a galaxy with a lot more diversity than the Reapers are used to dealing with. This could have been used as a plot point at the endgame, or it could have been used to explain why this cycle is just a little more adaptable than previous ones.
And finally, the Rachni happened. At one point someone opened up a relay and the Rachni poured through. They nearly conquered the galaxy. The fallout from this shook the mindset and development of the entire galaxy. It led to the Krogan uplift, which led to the Genophage. It led to a policy of not opening up any more relays, which led to the war between Turians and Humans. It also led to a galaxy where a majority of the relays are still closed, which is probably also something the Reapers don't usually see when they show up.
Mechanically, the Mass Effect 1 writer did plan ahead. They had an "unbeatable" enemy, an excuse for why we "might" be able to beat them, and a setup that required a small squad of characters to travel around and have adventures. Yes, they needed to come up with an ending, and (maybe) an explanation for the Reapers, but they gave themselves a wonderful framework to build on, and that framework worked with both the genre of gameplay and the genre of the story. There was a plan, and for whatever reason the writer of Mass Effect 2 threw it away and did something completely different.
We're going to spend one more post walking about this strange disconnect between the end of Mass Effect 1 and the start of Mass Effect 2. A lot of the later problems begin here, and there's a lot to unpack.
Footnotes:
[1] By "Prothean ruin" I mean any item from any of the previously reaped races, even if it's not necessarily Prothean in origin.
From The Archives: