I arrive at the ruin to help Mercer Frey kill Karliah. There is this short bit of dialog at the start where Mercer is able to pick the lock of an "impossible lock" door. Then halfway through the dungeon he does it again, bypassing a door that you normally can't open, even with maximum lockpicking skill. This becomes important later.
I have to say that Mercer is about the worst thief in the world. Instead of letting the player pick off targets from the shadows, he charges into battle, screaming combat taunts and blocking my arrows. He blunders into traps, even though any halfway-leveled stealth character has access to a perk that makes them immune to setting off traps. He's actually a liability for anyone trying to use stealth. And I imagine that "stealth" is a pretty common appraoch for players who are running through the Thieves Guild questline. Crimey.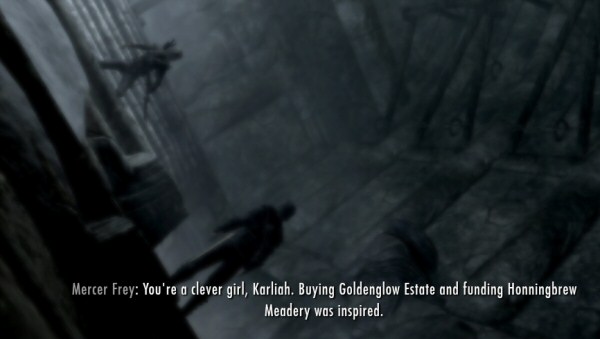 Note how the writer keeps on patting themselves on the back by praising that ridiculous plot with the mead brewing. I mean, "inspired"? The plan failed, and even if it had succeeded it wouldn't have advanced Karliah's goals. We'll talk more about this below.
Then at the end of the dungeon, I enter the final chamber and suddenly fall over. Karliah has hit me with a paralysis arrow which will never exist or be mentioned again in the gameworld, despite the fact that it would be the Most Useful Thing Ever. Then she and Mercer talk. It is revealed that Mercer was the one who killed Gallus (the old guild leader) and pinned the crime on Karliah. She admits she can't hope to beat Mercer in a fight so she turns invisible and runs off.
Having outlived my usefulness, Mercer then comes over and stabs me.
Outside, I am revived by Karliah. My character quite reasonably greets her with, "You shot me!"
"No, I saved your life," she explains. See, the paralysis arrow she used on me slowed my heart rate so I didn't bleed out. It took her a year to perfect the poison, so she only had enough for one shot.
Karliah dear, if you had shot Mercer Frey then my life wouldn't have needed saving in the first place. You dunce. If you push me in front of a bus and then save my life with CPR, that doesn't cancel out the crime of pushing me in front of a bus. What if he'd decided to cut my head off? Your plot-arrow wouldn't have done me much good then, would it? You had two targets: A stranger, and the super-powerful, completely evil guy who murdered your best friend and who you admit you can't hope to defeat in battle. You chose to shoot the stranger, then run away and let the bad guy kill the stranger, then tried to recruit the stranger. What is wrong with you?
If it took you a year to "perfect" the formula, then why don't you make more now that you know how? Why didn't you make enough for a few arrows, just in case you missed?
So much of this could be fixed with just a few common-sense changes to dialog. Instead of Karliah getting self-righteous about saving your life, have her say, "I thought I was shooting Mercer. It was dark and foggy in that tomb. I wanted it that way for the ambush. I wasn't expecting Mercer to bring someone else. Sorry you got caught up in all of this."
This would make her action understandable, and might make Mercer seem kind of clever for bringing you along.
You could also have Karliah explain that she stole the paralysis arrow from some wizard in Cyrodil. This would:
Explain why she only had one.
Explain why you can't make or obtain more yourself.
Establish her as a thief.
Boom. Two painful contrivances fixed with some very small alterations to dialog. This wouldn't fix all the logical, conceptual, and thematic problems with this story, but it would avert the need for both Karliah and the player to behave like complete fools to make this section work.
She says that she has found Gallus' diary. Unfortunately, it's written in an unknown language. Gaullus was a human, but wrote the diary in some other language for unknown reasons, and now we don't know what it says.
She says her plan was to capture Mercer and bring him before the guild to face his crimes. How was that going to work? She has no proof. Everyone thinks she killed Gallus. Now she's gotten involved with this foolish scheme with the mead-brewing, which simultaneously made her look MORE guilty while also wasting all her money. She was planning on dragging Mercer's limp body into the guild headquarters, where they would remember her as the person who killed the old guild leader, tried to interfere with their mead business, and then ambushed their current guild master. And in her defense she was going to hold up a diary which none of them could read, which couldn't be confirmed to belong to Gallus, and which might not contain anything useful even if it was translated.
And it took her twenty-five years to come up with this plan?
Now, you might argue that she didn't mean for everyone to find out about the mead-brewing business. However, her entire plan depended on the guild figuring it out. She left all those clues, and then came to this ruin to ambush Mercer. What if we hadn't tracked down Gulum-Ei? What if Gulum-Ei hadn't spilled the beans? What if Mercer hadn't picked up on that clue about "where the end began". What if Mercer decided – quite reasonably – that there was nothing to be gained from walking into an obvious ambush and decided to hang out in guild headquarters? I guess she would have sat in that dungeon until her dumb ass froze to death.
She sends me off to see some scholar to see about having the book translated. I guess she's been too busy for the last quarter century to look into trifling details like that.
This scholar asks me for Gallus' journal, and is then surprised that it's in another language. Dude, If it was in Common Language, I wouldn't have needed to bring it to you. It's like he's been waiting for her to find the diary, but there was no reason to involve him until after it was found. This isn't really a plot hole. It's just a badly stilted bit of dialog.
The scholar tells me that the diary is written in ancient Falmer. The Falmer are a race of blind, underground-dwelling mole-people who hate the outside world and kill anything that enters their domain. Only one man knows how to translate Falmer: Calcemo the Mage. Off we go.
Calcemo refuses to help. He's just completed his study of the Falmer, and is completely unwilling to share his findings. So, I have to break into his laboratory and steal his research notes.
Wow really? You need me to steal something? Funny that after all these hours of screwing around, the first job that sends me to really steal something is coming from someone outside the guild.
Talk about heavy reading. I think I'll wait for the Kindle version.
It turns out Calcemo's "notes" are a giant stone carving built into the ruins. I don't know what the carving says. It's evidently a translation guide? As far as I can tell, it was a guide written by the Dwarves, to explain how to translate the ancient Falmer language into modern-day common, which didn't exist yet. Makes perfect sense.
(This is actually a quasi-puzzle. You have to gather a roll of paper and some charcoal from the next room, in order to produce a rubbing of the engraved text. Of course, if you happen to have those items already from compulsive looting then the rubbing will just appear without explanation, but it's still an interesting idea. Of course, it ruins the prospect of us actually stealing a physical object, which is something I was hoping I'd get to do at some point in this quest chain. I suppose, this is kind of like copyright infringement, which some people think is theft.)
I take the copied engraving back to the scholar, and we meet Karliah in the basement of an inn. Calcelmo the mage spent years studying that engraving in order to unravel the Falmer tongue. I don't know why. The scholar is instantly be able to read the diary as soon as I show him the rubbing. At last we get to see what Gallus wrote all those years ago.
The scholar reads in little bits and pieces. It's hard to do it justice here in this write-up, but the main points are:
Gallus observed that Mercer was living a lavish lifestyle, spending vast amounts of coin.

You can't be serious! You're telling me a member of the THIEVES GUILD was rolling in money and living large? What's the world coming to?

Gallus suspected that Mercer was stealing from the guild vault.

Dude, you were the guild master. Don't you have some way of tracking this? Don't you know what's in the vault? Can't you have someone keep an eye on it? Isn't that, like, your job?

There's some mention of the "Nightingales" and the "Twilight Sepulchre".

We've been hearing about the "Nightingales" now and again throughout this quest line. Apparently they're some sort of super-secret society. So secret that nobody believes they exist. Mercer, Karliah, and Gallus were all members.

And to get super-pedantic: Did the ancient Falmer really have a word for "Nightingale"? And was something that specific really detailed on that rubbing?
Karliah freaks out at the mention of the Twilight Sepulchre. It turns out that whatever Mercer has done, it's bad. Like, super bad. Karliah tells me to meet her back at the guild headquarters. We're going to confront the guild.
From The Archives: