Last week we ran into an enemy I couldn't beat, and resolved to go back to Velen and knock out a few levels first. I ended up knocking out two, because I'd forgotten how slow leveling is in the early game. EXP is just hard to come by. I nip back to White Orchard, and the first quest I do is one where I help a Temerian guerilla recover medical supplies from an ambush site. My reward? Eight XP. Eight. If my calculations are correct, and I believe they are, that's a single digit number. Even early on, it takes several hundred XP to level up. This might take longer than I thought.
So I traipse around White Orchard, hitting up every place of power for the free skill points, and do the "Devil by the Well" contract. Still only level four. Back to Velen, I do a fairly long and involved quest where I'm reunited with Letho of Gulet, one of the villains from the second game.I'm a sucker for callbacks to previous games in the series. Then, three horse races east of Crow's Perch, then fist fights in three different villages, then the "Woodland Beast" contract, which requires me to kite Alghouls around a stand of trees for like ten minutes. Still only level four. At this point I'm wondering if figuring out the leveling curve was something of a last-minute scramble for CD Projekt.
Finally, I'm around civilized people who appreciate the finer things in life, like punching.
Finally, out of ideas and with so much of my quest log way above me in level, I do the thing I'd resolved not to do: I start grinding out monster nests. When I started this series I promised to not just gush about the things I like but also to bellyache about the things I didn't. Well, here's some of me fulfilling the second half of that promise: combat has never been CD Projekt's strong point.
They have gotten better with practice, of course. The first game put its swordfighting mostly on autopilot, with an unusual system of timed mouseclicks to increase damage. It was a bit clunky and mostly notable for its novelty. The single thing I remember most about the second game's combat is the rolling – the endless, nonstop rolling. On the higher difficulties (I admit I never played the "Dark" difficulty they added in post-release patches) I would roll practically in between every hit. It wasn't that much of an ordeal, but the fights often ended up looking silly. There were also some flow-breaking irritants, like the fact that you drank potions from the meditation screen.
The third installment has gotten combat more right than the first two. The addition of a quickstep is welcome, and it is a system that rewards several different kinds of skills: positioning (basically, don't get surrounded by nekkers/drowners and the like), timing (time your dodges correctly), tactical awareness (ie, knowing when enemies are and aren't stunlocked – they can't just be button-mashed to death), and preparation (using the bestiary – one of my favorite series features – gives you a real edge).
There's no single thing that's glaringly wrong with it, but for all that it never quite clicked with me either. I played the game for the first time right after I finished Bloodborne. Granted, that's something like asking a comedian to go onstage right after Richard Pryor, but it was still striking how different the overall vibe of combat was between the two games despite the mechanical similarities. I'm going to list some of the way I felt like The Witcher 3 came up short. None of them are glaring flaws by themselves, but they add up to substantial room for improvement.
I should mention that while I'm using a punchmage build for this playthrough, the criticisms I have of the game's combat apply to conventional builds as well.
There's not as much variety as there seems. There are other weapons, like clubs and axes, that you can loot and use, but there's very little reason to use anything but swords. This makes sense given the source material, but that doesn't make it much less restrictive in practice. There are also build options – like the crossbow talents and a big chunk of the alchemy tree – that I imagine hardly anyone uses. I wanted to use a strong attack build at one point in one of my playthroughs because I liked the Bear school armor so much, but once I actually the build put together, I just used fast attacks instead and found they killed things faster. You can play through the whole game using pretty much nothing but Quen and fast attacks, and that seems to be what a big chunk of players do. The combat mechanics never much rewarded experimentation or creativity – not for me at least.
Things get repetitive. Throwing new things at the player regularly in an RPG with a fifty-plus hour main quest and an ocean of side content is a tall order. But it still struck me how many of the different monsters weren't much more than palette swaps of something else. Some stood out – Leshens and Foglings were both unique, and the first time a Fiend ever hypnotized me was something new. But those were the exceptions rather than the rule.
Too much HP-sponginess. This might be me rather than the game, because I think this about so many games that I play: I wish that almost every mob did more damage and had less HP. A mob that can really hurt you is the one you remember, the one that makes fights exciting. Instead, many of the The Witcher 3's boss fights had me repeating that same fairly short pattern of moves, like hit-hit-hit-quickstep-repeat, over and over again.
Some gameplay options are frankly overpowered. I wasn't even a full signs build in my second playthrough, but Igni's "firestream" mode still could trivialize most encounters. In fact, it's already starting to do that in my current one.
Reverse difficulty curve. This problem isn't unique to the Witcher series, it's something I run into all the time in RPGs, but its especially apparent in these games. In my playthroughs the hardest combat encounters in both the second and third games came in the first third or so of the runtime – and that persisted even on subsequent playthroughs, indicating that it wasn't just about the rate at which I learned the game mechanics.
My Geralt exclusively drinks booze for roleplaying reasons, which makes it a little tricky to get good screenshots of my vanquished foes.
Good combat is important – it can keep me playing a game I otherwise am not feeling. I had no shortage of criticisms of Mass Effect: Andromeda, but by the end I was suprised to find out I'd plunked almost 250 hours into that thing because I enjoyed the combat so much – and not just because Vanguarding is fun, either. I had several different builds I enjoyed playing. By contrast, in The Witcher 3 I can stumble across a bandit camp or grave hag and feel nothing but irritation.
Some of these issues are the product of unique things about the setting, like the fact that you're playing a specific character with a specific "class" so to speak (Witcher), which makes variety harder to pull off. But I don't think that excuses everything – some of this is just poor design.
That was a lot of griping. I'm going to be returning to some of this later, but for now lets get back to Geralt. He's looking for Triss in Novigrad, but she's in hiding as magic users are persona non grata with Menge and his thugs. Geralt tracks her down to a hidden hideout called the "Putrid Garden," base of operations for the local underworld honcho called the King of Beggars. This is our first glimpse of Novigrad's underworld, but it won't be the last.
After the meeting, you go with Triss on the type of menial job she has to take now to survive: using her magical knowhow to clear the rats out of a warehouse. On the way you have to fight the drowner that defeated me earlier, and I've learned something about the game's leveling mechanics that might be an issue going forward.
You see, if a mob is more than five levels above Geralt, it's marked (if you have the UI turned on, which I occasionally do to check things) with a skull icon. I don't know exactly what's happening mechanically, but this makes them way harder to beat. I know that because I tried beating this drowner at both level four and level five, and there was a huge difference. Same with the level ten witch hunters you fight later on: at level four, a single quick attack from one of them was enough to kill me, and Igni never set them on fire. At level five, a quick attack took less than a quarter of my health, and Igni's firestream mode was enough to barbeque them pretty much every time.
This may throw a wrench in any attempts to do content that's significantly above me in level. Honestly, I wish the developers hadn't included this particular mechanic. They give you the option of doing the different parts of the main quest in any order, but then do something like this? Not the choice I would have made.
Anyway, Triss hasn't heard news of Ciri, but does recommend an Oneiromancer (who can interpret dreams) named Corinne Tilly. Unfortunately, she's trapped in a haunted house, natch. Geralt investigates and finds out the hauntings are the doing of a mischievious creature called a godling. This is the type of fun little vignette CD Projekt are experts at.
I saw this jump scare coming and it still made me jump.
Now rescued from the "haunted" house, Tilly is free to use her ability to help me locate Ciri. One thing the Witcher 3 devs consistently get right is the flavor of magic. I'd never heard of "Oneiromancy" before this quest, but its inclusion feels completely natural while at the same time retaining that level of mystery that the series does so well. It also uses the dialogue as an excuse to give the player some optional backstory. Moments like this are important for getting the player emotionally invested in Ciri's fate.
We learn that Ciri interacted with Dandelion, a foppish (though he doesn't quite rise to the level of spoony) bard who's one of Geralt's oldest friends. Dandelion has recently been left a local brothel in the will of one of his wealthy patrons, but the man himself has disappeared.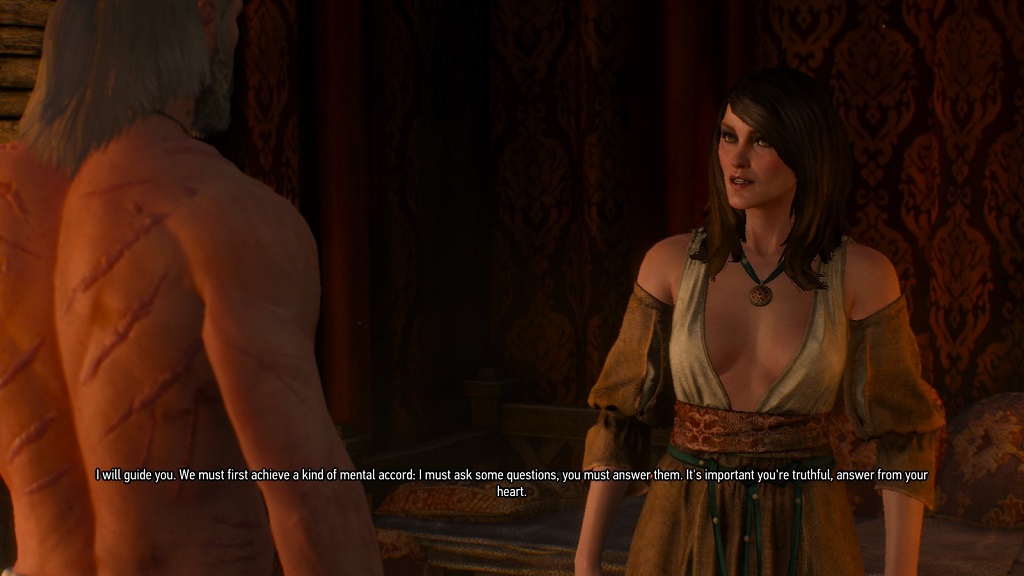 Corinne Tilly. CD Projekt can and does write mature and thoughtful stories. For all that, I wish they would lay off the cleavage a little.
Next week, we'll follow the thread of Dandelion's disappearance, and I'll learn to deal with disappointment. For details, tune in next episode.
Footnotes:
[1] I'm a sucker for callbacks to previous games in the series.
From The Archives: