I'm sure you're familiar with Match-3 games. It's this omnipresent thing in the world of mobile gaming. BeJeweled is the most famous example, although I think Candy Crush is the one that's made the most money. There are literally hundreds of these things floating around out there in various cloned forms. They're ideally suited to mobile gaming. The interface is simple, it's colorful, you don't depend on audio cues, and the rounds last about five minutes. That's perfect for a game to play on your phone while waiting for the bus.
But these games are also sort of shallow and broken. Their gameplay is crippled by specific flaws that pushes the player into boring play. The most interesting play is different from the most rewarding way to play. It's like a version of Space Invaders where the way to get the best score is to stand still and spam the attack button as fast as possible instead of dodging and aiming your shots.
Broken things
We're on Bejeweled 3 already? Isn't it about time for the dark gritty reboot?
Broken thing #1: Lots of randomness.
When you clear some pieces, everything settles to the bottom, which opens up space at the top where new pieces fall in. It's very likely that these new pieces will create additional matches, which will remove more pieces, which opens up more space, etc. The game strongly rewards this sort of thing. "COMBO×3!" And such. The vast majority of these combos are not things you orchestrated. They're accidents. Sure, you could spend two minutes carefully studying the board to discover the one perfect move that will cause a chain of matches. But you could also spend those two minutes just randomly clicking on shit and you'll get even more points.
So playing randomly is superior (in terms of score over time) to playing judiciously.
Broken thing #2: The game is at the bottom.
Since random moves score better (over time) than planned moves, it means that rather than look for the "best" (largest) match, your optimal strategy is you just watch the bottom of the board. Make the LOWEST matches you can, because matches at the bottom of the board will cause large changes to the rest of the pieces and increase the odds that all of that moving around will create more accidental matches and combos.
Broken thing #3: The board locks up.
You can only swap adjacent pieces, and you always want to do the lowest swaps possible. Eventually the new pieces will be in an arrangement where the bottom two rows just won't have any valid swaps. There are no moves down there. So then you play a couple of rows above the bottom. But no matter how well you play, you're not going to change the contents of those bottom two rows. They're basically stuck. The inescapable trend over time is for more and more of the board to lock up. Your options get fewer and fewer.
Eventually there aren't any decisions to make. Sure, I can match these three red ones or these three blue ones, but who cares? They give the same points and I have no control over what new pieces will drop from above. So not only is the game random, but it gets less interesting over time.
It's actually possible for there to be no valid moves on the board. What happens then? Should the player lose? It's not really their fault. They don't have any control over what drops from the top. The band-aid solution is for the game to reset the whole board if it detects the player is stuck. That keeps the play going, but to me it seems to indicate a fundamental problem with the design.
Broken thing #4: Even more randomness.
Wow. I blew up half the board by clicking on shit at random. I'm the best bejewler ever!
As a way to fix the above problem, the games will add some sort of power-ups or specials. Maybe press a button and destroy all the red ones. Maybe use a "bomb" to blow up a 3×3 section. Maybe something to clear a row or column to get the board moving again. Whatever.
This sort of fixes the problem, in that the board no longer gets "jammed". But this has the side effect of making the game even more chaotic and random. You're now playing a game dominated by chaos.
They cover this up by making the game easy and making lots of sounds and colors and particle effects. WONDERFUL! (chimes) COMBO! (sparkle sound) SPECTACULAR! (rushing sound) COMBO×5! (fireworks)
You feel like you're making stuff happen, but it's ultimately shallow and sad. It's a never-ending cascade of participation trophies.
You can test this by watching someone play. Based entirely on their moves, can you tell an expert player from a novice? If we're talking about Sudoku, Tetris, or Mahjong, you can tell right away if someone knows what they're doing. Sure, those games have random elements but the randomness doesn't dominate the game. But Bejewled? It would probably take a while to spot a "good" player, and it would doubtless come down to how fast they're clicking.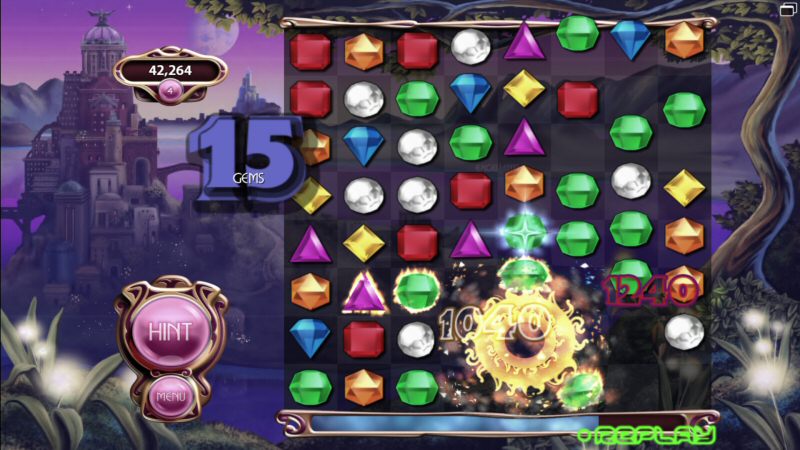 15 GEMS! Of course, I only matched 3 of them on purpose.
The more recent versions of Bejewled have added a timer. This sort of fixes the lack of skillful play. Even if the game is shallow and random, you can at least pressure the player to click on things FAST. But it just encourages even more chaotic, less analytical play.
Obviously the game is still popular. I'm not saying the people that made these games are idiots or anything. I'm just saying it's a very ephemeral, disposable game. And that's fine for something designed to be played in five minute bursts. But it's hard not to look at this shallow clickfest and wonder if there isn't a more interesting game you could make out of it.
As it turns out, there is. Someone has done it. They took the boring, played-out match-3 genre and revitalized it. They fixed the problems that incentivized boring play, they lowered the amount of randomness in the game so strategy was more important, and they used the whole board so the player always has lots of options to consider. Then they gave it a slick presentation, phenomenal music, and an inventory-based meta game to make every round feel interesting.
And then they attached it to a porn game about trying to bang anime girls.
HuniePop!
Note that from here on we're going to have pictures of anime girls. Maybe this will make you uncomfortable. Maybe you'll dig it. Maybe you don't care. I'm just giving you fair warning before you scroll down and wind up with something on your screen that might cause you problems. I guess we'll get the worst one out of the way first…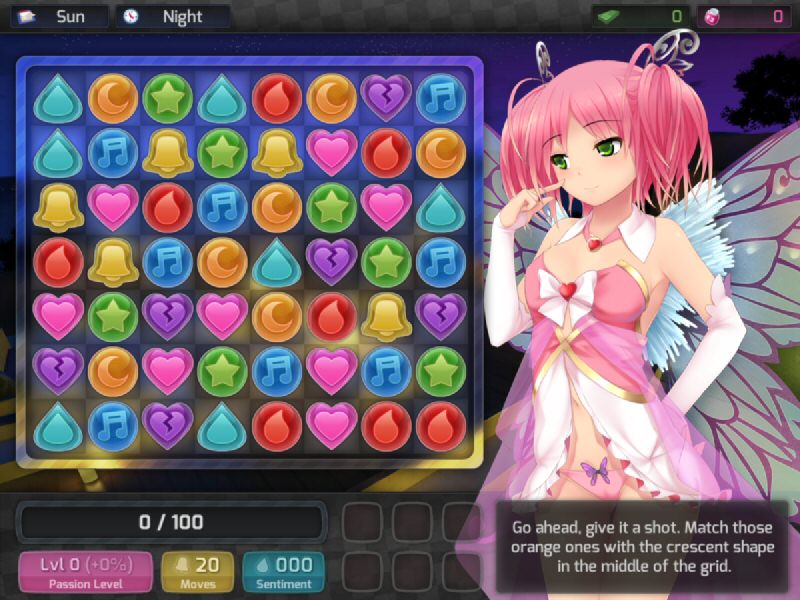 See, this LOOKS like an underage girl, but see she's a fairy that's really centuries old and yeah that seems like a pretty transparent excuse, doesn't it?
HuniePop is a game where you play as a loveless virgin. You can be a male or female, but since you never appear on-screen and all the ladies are player-sexual the choice is kind of abstract. Your goal is to have sex with a bunch of different anime girls by taking them on dates. These dates take the form of rounds of Match-3.
I don't have a problem with these games and I certainly don't look down on people who play them, but this really isn't my thing. I'm a 46 year old man who's been married since 1996. I'm actually really uncomfortable playing a game where you hit on all of these girls that look… much younger than 46.
At the same time, I have to give credit where it's due for solid game design. Also somewhat selfishly, I'm hoping someone else will clone the HuniePop gameplay and put it into something less salacious. I'm not picky. Victorian murder mystery? Medieval dragon slaying? Cyberpunk police drama? Prohibition-era noir detective story? Modern military warfare? Alien invasion adventure? Whatever man. Just something besides tits.
So in the interest of encouraging a smarter breed of match-3 clone, let's look at why HuniePop works.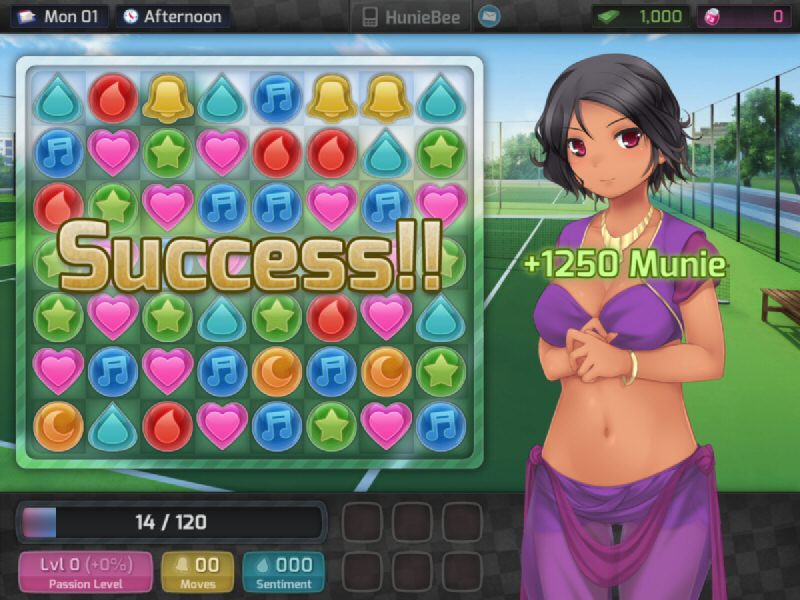 I have NO idea why you MAKE money from going on dates. I don't think the game even tries to explain that one.
1. It's about EFFICIENT moves, not FAST moves.
Larger matches score WAY more than smaller ones. A match×4 is worth double what a match 3 is worth, and a match×5 is worth double THAT. Your goal isn't to just make the first random move your eyes see, your goal is to find the BEST move. If you just do little match×3 moves you'll never get anywhere.
2. It's about planning ahead.
Instead of a timer, you have a fixed number of moves to reach a certain score. You're not supposed to click randomly. You're supposed to look at the board and think about how the pieces will move around. You're supposed to plan ahead. If you can't make a big move now, then you should be setting up a big move for your next turn, or a really big move for the following turn.
3. The game uses the whole board.
Instead of swapping two adjacent pieces, you can slide a piece anywhere along a row or column. All the other pieces will shift to make room. As long as this results in a match, it's a valid move. This means the ENTIRE board is always in play. The bottom rows don't lock up and you need to look at the whole board, not just the bottom.
4. It's less random.
I haven't done a statistical analysis on the game or anything, but it feels like fewer matches happen as a result of new pieces falling in from the top of the board. Or perhaps there are just as many, but they just don't matter as much.
5. Your strategy changes as the round progresses.
Your goal isn't to just make the highest-scoring matches the whole time. Early in a round you want to match hearts, which will boost your multiplier. You also want to be matching cyan pieces, because they give you access to your inventory of "powerup" gifts. It's not until those resources are up that you'll want to start working on scoring points directly.
6. The meta-game is kinda interesting.
There's a very light RPG layer on top of all of this. Different girls have different preferences in terms of what color matches advance the date. For example, one loves green (which give double points) and doesn't care about red (gives half points) so how you approach the game changes based on who you're playing uh… with? Against? For? Honestly this "Match-3 game as a date" metaphor is confusing to me. At any rate, you can upgrade your character to make matches of a given color more effective, which also impacts how you play.
It's a Real Game Now!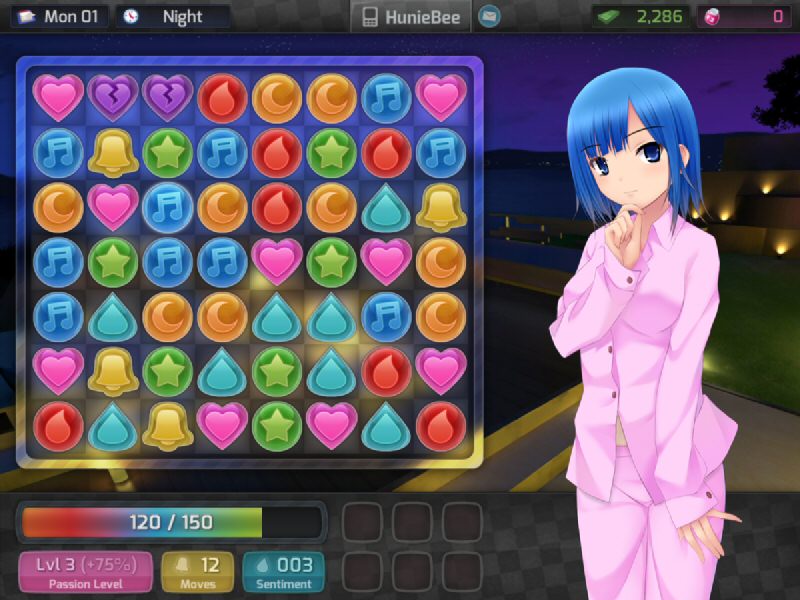 Nikki is my favorite. She doesn't flirt, she doesn't say anything sexy, and she seems as uncomfortable with the whole dating thing as I am.
If you're interested in playing the game but are put off by the pornAre bare cartoon breasts still considered porn? My smut-detector was calibrated in 1985 or so and I haven't really updated it since then. then I'll offer this advice: Don't go on dates at night. (And if you do, make sure to fail the date.) Successful night dates are what triggers taking a girl home for sexy-times, and that's where the game really made me uncomfortable.
Dear Developers: In the future, please clone HuniePop instead of Bejeweled and Candy Crush. Those games are broken. If you're going to clone, clone the good one. I'd like a version of this game with less tits. Thank you.
Footnotes:
[1] Are bare cartoon breasts still considered porn? My smut-detector was calibrated in 1985 or so and I haven't really updated it since then.
From The Archives: