The last game gave us a pretty good team and also gave us the goal of "go learn about the Reapers". Then this second one replaced it with "Your team is gone. Build another one." Once you get over the shift in goalAssuming you ever do. My therapist says I'm making "good progress". this is a good subject for a BioWare game, as it plays to their strengths in writing vibrant one-on-one conversations with interesting people. Okay, we're gathering up a team of people even though we have no idea what we need them to do beyond "go through a relay", but we'll talk more about the main story later.
Team Building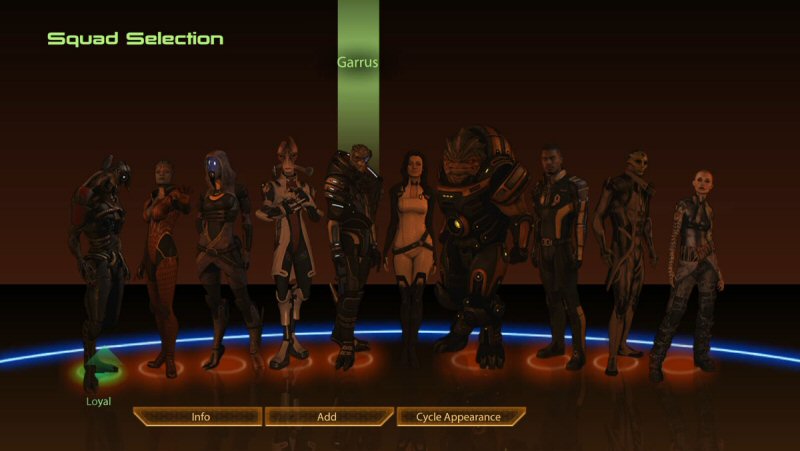 When BioWare asked players what they wanted from Mass Effect 2, who was the smartass that told them 'I wish it was more like the Brady Bunch'?
The four Trek-like "episodes" of Mass Effect 1 have been replaced with shorter recruitment missions. Mordin, Jack, Garrus, Tali, Grunt, Legion, Thane, and Samara each get their own little recruitment story. And depending on what DLC you might own, you can also have Zaeed and Kasumi. You also get an optional loyalty mission where you can help these people out with their personal difficulties.
Note that this makes Mass Effect 2 a longer game. It also makes it more variable in length. You can do no loyalty missions and be done quickly, or you can do them all and have a very long game.
For each character on your team there's a recruitment missionExcept for Miranda and Jacob, because they join your team in the tutorial. where they become a member of the crew and select a spot to live on the Normandy. Then at some point laterThe actual availability triggers are kind of complicated. they ask you for help. They have some personal problem that needs your attention, which involves accompanying them on a special mission. These loyalty missions are optional, although skipping it makes the final mission in the game harder. I'll talk about the suicide mission later.
The dialog tends to shine in these character missions. Since the writer can be sure that Jacob will be on the team during Jacob's loyalty mission, and since the mission is about him personally, they can give him lots of character development and dialog. This is in contrast to one of the late-game story missions where you might bring any two members of your twelve-person team, and so your companion dialog is rare and limited to shallow, single-line comments on the immediate surroundings or situation.
Since Mass Effect 2 puts the characters before the story, let's discuss things in that order.
Mordin
Does Mordin have a dialog wheel on that screen in front of him? I wish I had the option to ask him about it.
Smart and amusing, Mordin nearly saved this franchise for me. Here was a throwback to those fun, quirky companions I remember from KOTOR. He's colorful, funny, and gives us a much-needed look into Salarian culture and customs.
His recruitment mission also feels like Classic BioWare. "I have a cure for a major disease but I'm having distribution problems" is right out of KOTOR.
I suppose it helps that his life's work is deeply bound to one of the most interesting conundrums in the galaxy: The genophage is an atrocity that saved the galaxy. I'm not going to go over it again, since I discussed this at length earlier in the series, but it's still a fantastic plot. There is no easy answer, but there are a lot of interesting viewpoints.
Garrus
Just like old times, Shepard.
Yup, he's back. Maybe they were laying the fanservice on a little thick when they had him become space-Batman in your absence, but… bah. It's cool. At least it matches his character goals from the previous game.
One thing I really appreciated about Garrus was that the writer really tried to make the renegade choices more alluring during his loyalty mission.
While Shepard was dead, Garrus built a team of badasses to fight crime. That team was betrayed and murdered by a guy named Sidonis. If Shepard chooses to to help outBECAUSE OF COURSE SHEPARD HELPS HIM OUT, ARE YOU SOME KIND OF MONSTER? then you have to track Sidonis down and give Garrus his shot at revenge.
The game actually does a terrible job of making this clear, but the problem with Sidonis is that his crimes were perpetrated on Omega, and there's no system to extradite him there. It's like trying to have someone arrested in New York for a theft that took place in Antarctica. There's really no way to do this "by the book" and have him thrown in jail, which would be the paragon choice.
So you can allow Garrus to assassinate a criminal, or you can let the criminal go. To do justice, you need to break the law. If you let Sidonis escape, then the game backs out at the end and the news reports that Sidonis turned himself in and the authorities are trying to decide what to do with him. This feels like a bit of a cop-out, but I guess the writers were afraid of offering the player a choice between "Do the satisfying thing and get renegade points" and "do something completely frustrating and unsatisfying for paragon points". Although, the entire series is kind of notorious for screwing renegade players like this, so I'd argue it would only be fair.
Once again this reveals the cracks in the paragade system. The player must mix in-game and out-of-game concerns, "I can do the right thing here, but then I might not have enough Nice Guy Points to accomplish something really important later".
Still, I like that the game presented a situation where renegade actions made sense, and were even tempting for a paragon.
Jack
It makes no sense to mix a character concept this dark and edgy with a physical appearance this wild and absurd. I don't care how much costume tape you use, those belts are not staying over her nipples.
Jack is a crazy biotic berzerker that we have to break out of prison. There's nothing really wrong with her character designAside from her outfit, of course., but I'm usually really uncomfortable with Jack. It feels like I should be taking her to therapy, not on dangerous missions. She's certainly not someone I'd choose for an important mission where people need to work together. And given that Cerberus tortured her as a child with their shitty science, she's the last person in the world I'd choose for a Cerberus team.
Recruiting a powerful and psychotic Cerberus victim to work for Cerberus is beyond stupid. Is she really the only badass biotic in the galaxyNot remotely. In fact, we've got another one on our team already (Miranda) and yet another on our recruitment list. (Samara.)? Why would we go to so much trouble to recruit someone with such a massive grudge against our organization, when there are presumably less destructive options available?
There are two ways of looking at this:
This is deliberate on the part of the writer. Yes, recruiting Jack is a dumb idea. This is on purpose, to highlight the staggering incompetence and shortsightedness of Cerberus. This is followed up by her loyalty mission, which underscores that on top of their incompetence they are also manifestly evil. And not charming evil like Darth Vader choking a dude for overcooking his hot pocket. More like disturbing "Nazi war crimes" evil. Of course, this just shows how preposterous and inappropriate it is to force the player to work with them. Therefore, the writer is incompetent.
This is unintentional on the part of the writer. They couldn't keep track of what Cerberus was from one scene to the next and didn't realize that the idea of Jack being a Cerberus victim was totally at odds with her being on the recruitment list. Therefore, the writer is incompetent.
(I imagine the actual reason for this problem is "these two parts of the game were written by different people". So it's not really the work of one incompetent person, but the work of two different people who weren't cooperating. Regardless of the cause, this is still a glaring problem with the story. Someone, somewhere along the line dropped the ball.)
We're here to chew gum and be traumatized by horrific medical research conducted on innocent children, and we're all out of gum.
But whatever. If all we're trying to do is fill out the roster with colorful personalities and we don't care if anything makes sense, then she gets the job done.
Her loyalty mission is what really sells the character for me. You take her back to the Cerberus lab where they killed and tortured children in their attempts to make a better biotic. They subjected young Jack to constant agonizing pain and narcotics in an attempt to supercharge her biotics. Then to test their work, they put her in fights with other children. Fights to the death.
It's a ruin now, but for her it's filled with the only kind of monsters capable of scaring her, which are the ones that come from inside her. It's a dark, gut-wrenching process of watching her face her demons and struggle to find some closure in it all.
If the writer wanted to make Cerberus the least bit interesting they could have demonstrated that the scientists were actually onto something. If the audio logs showed a team gradually drawn down this dark road by the results of their study and against their better judgement, then this might make a sort of "ends justifying the means" thought experiment. This could then tie into TIM and Cerberus by asking the question, "How far would you go to save the entire human race?"
But no. The scientists are idiots and their research consists of coming up with new ways to torture children. They're a bunch of amoral jackasses and in the end they're killed by their own experiment. Given what we see in the game, they were wrong from the start and Jack would have been a powerful biotic no matter what kind of upbringing she had. In which case they took a powerful and gifted human being and wasted her talents by turning her into a monster.
It's powerful and interesting, but it also drives home the point that Cerberus is a circus of stupidity and evil, and it makes no sense to be working for them. It's one of the best moments of the game, and it makes the main plot look that much more idiotic in the process.
Jacob
I joined Cerberus, planning to be as incompetent as possible to destroy them from within. But they don't seem to mind. I've sort of been zooming up through the ranks since they hired me. Turns out I've killed less Cerberus personnel than the company average.
It's a running joke on this site that nobody likes Jacob, like he's some kind of pathetic Charlie Brown figure. Nobody remembers he exists, nobody ever goes into the armory, he never goes on missions, etc.
But jokes at his expense aside, I think Jacob serves an important role in the story, which is to provide contrast to the others. He's the Aquaman of this game: His only real sin is that he's not as cool as everyone else. He's replacing the shared role of Kaidan and Ashley, who roughly represented the viewpoints of rank-and-file humans in general and Alliance personnel in particular. At the risk of getting myself branded as an Ashley Williams style space-racist, hanging out with Jacob in Mass Effect 2 is like going to the zoo to see a labrador retriever. Those are cool dogs, but that's not why you go to the zoo. In the same way, we're here to meet crazy aliens, and it's unavoidable that Jacob will look a little bland in contrast.
The other important thing he does for the story is to give us the face of the only sane man working for Cerberus. TIM is batshit crazy, Miranda is an arrogant elitist, Yeoman Kelly is a manic freak, and basically everyone else was killed by lab experiments run amok. Without Jacob, the writer wouldn't even have the fig-leaf excuse of, "Maybe Cerberus isn't as crazy as you've heard."
His backstory of "I left the Alliance to work for Cerberus because the Alliance couldn't get things done" is desperately in need of details. He throws that line out and we're supposed to just accept it as a hand-wave of all the horrible things we've heard (and maybe personally witnessed) regarding Cerberus so far, and a single line of dialog just isn't enough to sell this. Jacob could have been used to give us a sort of, "There are two sides to every story" vibe. Maybe he could talk about some Cerberus ops that accomplished good things? Talk about the people he's helped? Talk about some horrible event that resulted from Alliance indifferenceAside from the entire plot of this game.? But no.
In Mass Effect 1, Wrex has a personal story that builds up Saren as a powerful and scary guy, and another very personal story that explains how the genophage is destroying his people. Garrus has a story about a particularly nasty criminal that got away, and later we can help Garrus hunt him down. This allows us to experience his frustrations with C-sec instead of just taking his word for it that they're sometimes ineffectual. Kaidan has a story of abuse at the hands of a Turian that fills in some details of our war with them. Liara has stories that show how much Saren had twisted her mother. Tali tells the story of the Geth and the Quarians.
The point is, these aren't just personal stories; they also double as foundational elements of worldbuilding. They add detail to the world of Mass Effect 1. In contrast, Jacob's story is just a story about Jacob, and it blows a vital opportunity to give us a viewpoint where it might seem reasonable to work for Cerberus. The writer passed on the perfect opportunity for some remedial worldbuilding to prop up a shaky premise and motivate a belligerent player.
This is not the last time they will make that mistake.
Footnotes:
[1] Assuming you ever do. My therapist says I'm making "good progress".
[2] Except for Miranda and Jacob, because they join your team in the tutorial.
[3] The actual availability triggers are kind of complicated.
[4] BECAUSE OF COURSE SHEPARD HELPS HIM OUT, ARE YOU SOME KIND OF MONSTER?
[5] Aside from her outfit, of course.
[6] Not remotely. In fact, we've got another one on our team already (Miranda) and yet another on our recruitment list. (Samara.)
[7] Aside from the entire plot of this game.
From The Archives: