Morrowind's narrative is settled around a religious schism between the "real" gods, who are worshiped by the occupying Empire, and three home-grown mortals-turned-gods who are worshiped proudly and a little spitefully by the unwillingly colonized natives. Unsurprisingly, there's a complex lore and backstory behind this state of affairs, and I admit that this is where I would normally check out; this sort of thing is so commonly tiresome in fantasy. An author creates a convoluted narrative of gods and wars and legends and thinks the reader will find it as interesting as they do, if only they relay every detail precisely. The result is a plodding, ponderous shaggy dog myth that competes for headspace with the dozen other lores the player had to memorize. What these fantasy authors fail to realize is that history is not story. It's the tools for telling a story.
This is one thing that Morrowind gets exactly right.
How did the self-made gods come into being? Great question! I don't know. All I or anybody else knows is that there's a half-dozen different accounts all believed passionately by factions that bring their own prejudices and needs and grudges onboard. The history of the tribunal's divinity resembles a real history: a he-said she-said conflict of mythologies and folk accounts that sparks heated arguments and debate even between people on the same side. History as a debate is much more interesting to learn and follow than history as an inventory, and conflict over who is right is more interesting that conflict over who is stronger.
I don't know if this is 100% crazy nostalgia, but the snow island in Morrowind's expansion feels more genuinely cold than anywhere in Skyrim.
Later Elder Scrolls games would give each town a unique style of architecture and presentation. You get the Mediterranean town, the cosmopolitan snow town, the dwemer town, the fancy suburb. In Morrowind, there are five or six architectural styles spread across most of the settlements, so you would really need to know your way around the game to be able to tell precisely where a screenshot was taken. There's a definite trade-off here. The later games use their visual storytelling to communicate more specific details about each specific town, but Morrowind's visual storytelling tells you about a town's place in the greater narrative; a squat little mining town with modest Imperial thatch and stonework implies a vastly different backstory than a mining town with Redoran chitin and fringes, and letting these styles stand as broad trends gives a good idea of how the map is carved up and how spheres of influence are exerted.
Morrowind has an explanation for why all of its caves are full of hostile bandits and necromancers. It's practically an easter egg, and it's worth noticing that until they find it, nobody thinks much about the issueâ€"or cares.
Morrowind is one of very few games to feature slavery on a personal level, not as an abstract mechanic or resource. One of the many unseemly traditions upheld by the native Dunmer and "suppressed" by the colonizing Empire is the right to enslave the two beast races (both playable races, mind) for personal and industrial use. The game does not moralize extensively; it trusts in the inherent horror of bondage to rouse players to action. There is a slave-freeing faction in the game, but the player discovers it by freeing slaves independent of any greater questline. Morrowind presents slavery as a feature of the local culture without feeling the need to preach redundantlyâ€"it rightfully trusts the player to know that slavery is bad without needing to make every NPC adjacent to it a hero or a monster. That said, the player is actually forced to broker a slave bride marriage to complete the main quest. Which is, uh, awkward. In general.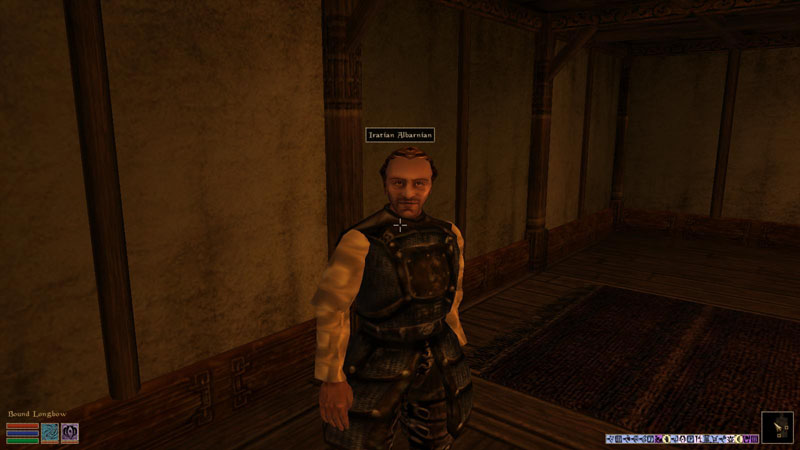 There is pretty much only one constant throughout the franchise: everybody looks ugly and weird.
Among the many diverse factions in the game are the three semi-aristocratic Great Houses. They're loosely coded to the three main skill treesâ€"combat, stealth, and magic. The combat one is mostly good and honorable, the thief one is mostly sneaky and underhanded, and the magic one is mostly evil and vicious. The effect of this is that good mages and evil warriors find themselves in difficult situations. Some might say giving those organizations a little extra flavor is worth their specificity and consequent exclusivity; others might prefer factions designed to let everybody have a go. For the ethically incongruous, there are of course standard fighters', mages', and thieves' guilds, which are all pretty neutral.
There's one other thing about the Houses. When I originally wrote this series I didn't really bring it up, but the more I thought about it, the more I decided I can't really be done talking about my experiences with this game until I have. So let's talk about Crassius Curio and my own very personal experience of him.
The stealthy faction Great House Hlaalu is nice or ethical. You engage in sabotage, theft, and espionage for various questgivers, most of whom don't really give a shit about the House and just want to help secure their own investments. It's not a subtle transition from raw recruit to thug, either; your first quest is morally and legally dubious and it only gets worse from there.
After a certain point you can't progress until you report to a man named Crassius Curio. Crassius is sleazy and lecherous towards your character–towards everyone, apparently. Crassius is the only person who can sponsor you and allow you to progress to the next rank. If you don't like where this is going, you might want to skip these next few paragraphs.
Crassius won't sponsor you unless you take off your clothes for him. To get to the next rank, you have to actually go into your inventory and remove all of all your character's armor, garments, and jewelry. He admires you and gives you a promotion, plus a magic ring as a bribe for being a good sport. It's pretty clear from the game's presentation that Crassius, and his demands, are comedy. Back in the early 2000s it was a novel absurdity to solve a quest by stripping, and he's a memorable enough NPC that he remains a fan favorite to this day. These days I don't really have an opinion on him. I made a lot of jokes about him in my LP a few years back and I recently wrote a play for Skyrim imitating his own ribald magnum opus, The Lusty Argonian Maid. He doesn't really bother me.

When I first played the game–which is rated Teen–I was about twelve years old. And this quest did bother me. I didn't feel good about doing it. I felt guilty and anxious in ways I couldn't really articulate, except that I was afraid my dad (who played the game as much as I did) would do the same quests and be angry at what I'd done to progress. I am not blaming the developer for this. I am not saying this quest shouldn't exist, or even that another route through it should have been programmed. But I can't look back on this with another twelve years of context and not realize how fucked up that was.
Let's move on.
Caldera's a mining town. If you've already been to a few places like it, you'll be able to tell at a glance that it's an Imperial town through and through.
One appealing aspect of Morrowind is that its magic items are more powerful by far than others in the series. Laying aside the tremendously powerful creations players can cook up themselves, there are dev-created items that can make a character nearly invulnerable when worn in concert or, in a few cases, even individually. The trick was that to get one of these awesome items, you generally had to kill somebody already using them.
I can't think of any way to sum up the rift between Morrowind and Oblivion than this. When Morrowind wanted to discourage you from killing its king, it gave the king a magic ring that reflects all spell effects, constantly restores health, and provides immunity to paralysis–but the king can be killed (in two hits, with a weapon introduced in the same expansion) and the ring can be looted and used by the player character. When Oblivion wanted to discourage you from killing its king, it made the king unkillable and wouldn't let you take any of his stuff. One can make arguments for either design philosophy, but the first is unquestionably more satisfying for a greedy and mercenary player to run up against.
A few features that would debut in Morrowind only to vanish forever include throwing weapons and spears; spells that teleport the player to local temples; joinable non-military political factions; beast races with conspicuously different physiologies; multiple default-game vampire clan factions; about a half-dozen unique clothing and item slots that can be mixed and even mismatched; fixed-point money-cost fast travel, including forms never seen before or since, such as hireable cruises and mage teleporters; a system to taunt NPCs into fighting you so they can be killed in self-defense; joinable religious factions representing multiple faiths; drug prohibition (honest merchants won't talk to you if you're holding) and paraphernalia; manors with staff that may be overseen; avian adversaries.
Nearly all the foodstuffs in Morrowind are fictitious. The crops grown on the game's landmass are largely imaginaryâ€""ash yams," "saltrice," "comberries," "hackle-lo leaf"â€"and the dishes and liquors made from them are doubly so. One staple in particular, kwama eggs, has a fully-realized species life cycle and ecosystem built around its acquisition. A queen kwama lays eggs, workers (headless dog-shaped arthropods) tend them, foragers (hopping maggotlike creatures) gather nourishment, and warriors (arthropods with a forager jutting from the neck cavity) defend the lair. This works because it's completely taken for granted by the working-class bastards who have to mine the eggs. In general, Morrowind's pretty good at establishing that bizarre is relative.
A few common phrases and phrases you'll have to learn from context over the course of playing: serjo, sera, muthsera, s'wit, n'wah, b'vek, almsivi.
Morrowind is actually the second game in the franchise to set its climax inside the ash-spitting Red Mountain. In Arena, Red Mountain was Jagar Tharn's final bolthole and looked like a generic lava-filed demonic hellscape. In Morrowind, Red Mountain is a semisacred place used as a fortress by the ancient Dagoth Ur; its design gives a few nods in the direction of actual volcanoes. It really sells Morrowind's commitment to "plausible, even if that's sometimes a little bit more mundane than we'd have gone for in the mid-90s." Also, it raises a lot of appalling continuity questions, but nobody really cares about that. I just wish somebody had told Khajiit guy.
And now: your questions, please.
DaMage asked:
Morrowind is the last Elder Scrolls to not have voice acting (well, it had a little, but not much). Do you feel the storylines were stronger BECAUSE it didn't have to be voice acted?. Along with this, Do you feel that it's impossible to achieve the depth Morrowind has if all dialogue has to be voice acted?
This is a good question. Honestly, yes, I do feel the game would have been weaker if every line of dialogue was voice acted, because I think it would have severely constrained the amount of words there are in the game and had a drastic effect on the pacing. Part of Morrowind's Outland Tourist aesthetic is that you ask people about topics and they furnish rather elaborate answers. Hearing these answers at the pace of a bored voice actor, or even accompanied by the unsolicited dronings of a bored voice actor before I cut it off to skip to the next line, would damage the experience to the point where it would be undesirable even presuming one could afford the studio time and the talent. Additionally, the actual line-to-line writing isn't spectacular and voice acting would draw considerable attention to this. Sort of like it does in Oblivion and Skyrim.
Is it impossible? No. Just much harder and probably very expensive.
Hal asked:
How does the handling of the religions compare to the earlier series?

In Oblivion and Skyrim, the Imperial gods (Aedra) are treated as "true" gods, while the Daedra are treated more like powerful demons or usurpers.

My memory of Morrowind says that the Imperial religion was the foreign, unaccepted faith in the land, while the Daedra were very popular (although their shrines were still out in the middle of nowhere.) I don't really recall much about how Tribunal worship fit into things.

Still, I remember those factions as being fleshed out and having complex relationships. Do you have any further feelings on how this transformed from the first entries, or how it changed moving past Morrowind?
Daedra worship was largely a source of mobs to fight in Morrowind, but not entirely. It's a tier system. The Imperial occupiers worship the Aedra; the native population centers object to this heretical intrusion and spitefully worship the Almsivi Tribunal; the Ashlanders and outskirts object to THAT heretical intrusion and worship the Daedra. Many of the latter category consist of hostile dudes squatting in temples, but there's like one or two temples that won't attack on sight and the Ashlanders worship their patrons peacefully and provide more stimulating religious debate than "Graggh bragh die."
DaemianLucifer asked:
If these gods are actually real and tangible,meaning they do appear to mortals,they do perform actual miracles,and everyone knows about them,how the hell can different religions and different sects of religions even exist?The only reason we have religious wars and schisms in the real world is that no one has ever seen an actual god appear and perform an actual miracle.
One of the reasons I love Morrowind is that it shows how not-true that is. We have religious wars and schisms not because of any real evidence, or any absence of evidence, but because of deep-rooted cultural tensions and tribal allegiances that inform our outlooks.
The Aedra definitely exist. Worship of the Aedra stems from the understanding that we in some way owe them; they created this plane, they appear to us, they can perform miracles (though they rarely do) and they seem to demand (or at least politely request) some worship or tribute. This would seem a perfectly good basis for worship, and the Imperials accept it at face value. Why worship anyone but the actual creators of the universe?
The Tribunal definitely exist. The Ashlanders used magic to make three people possess immortality, limited omnipotence, and omniscience. These three people, who argue convincingly that they are gods, care for their chosen people and perform miracles semi-regularly in their service. This seems like a perfectly good basis for worship, and the Dunmer accept it at face value. Why worship anyone but your own home-grown locally-involved deities?
To the Imperials, the Aedra are the actual creators of the world who deserve awe and gratitude and the Tribunal are three punks with magic powers, not fundamentally different from mages or liches. To the Dunmer, the Aedra are absentee tyrants who empowered a bunch of foreigners to come savage their lands and culture and the Tribunal are, at long last, involved and sympathetic and empathetic patrons. You can really see where each faction is coming from and why they loathe each other.
Fabrimuch asked:
Could you be enslaved if you were playing a Khajit or Argonian?
Nope. Racism against you is present, but it's more grumblings and insults than actual impediments to liberty or progress. Probably for the best.
From The Archives: