Achilles: So Sarevok, like me, is one of the Bhaalspawn.
The Grognard: Correct.
Achilles: Bhaal, the God of overcomplicated schemes, sired human children to take over for him in the event of his death.
The Grognard: Murder. Bhaal is the Lord of Murder.
Achilles: Yeah, but overcomplicated schemes must be one of his sub-portfolios or something. I mean this Sarevok guy sabotaged several iron mines, had this "Iron Throne" group start another, secret iron mine, sponsored two different bandit groups to raid the roads, blamed all of the above on either Amn, Zhentil Keep, or both.
The Grognard: Not to mention the Shadow Thieves. He framed them as well, for the murder of one of the Dukes.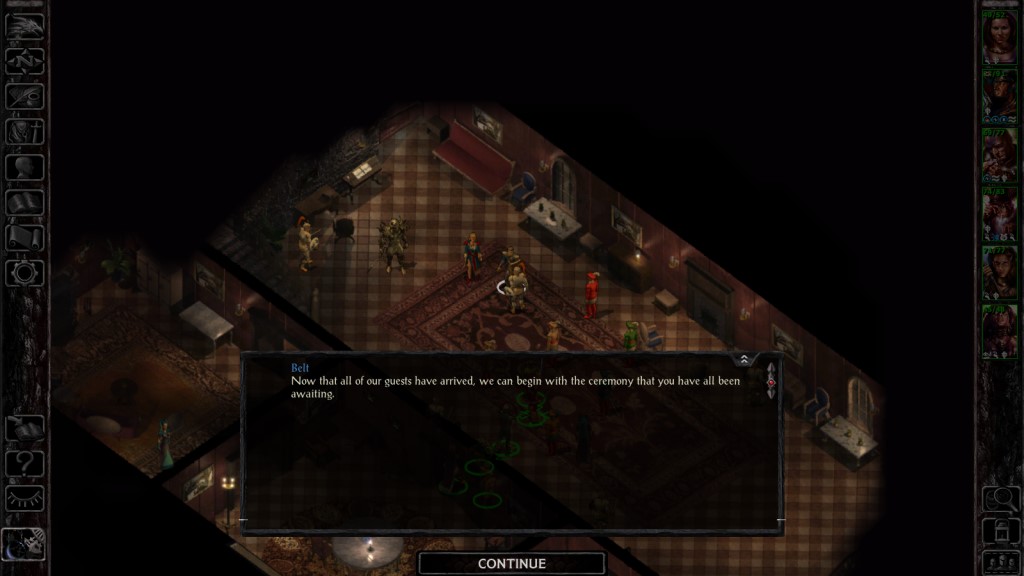 Sarevok tries to get himself named Duke. He was so confident in his plan that he didn't even bother to change out of his evil armor into something nicer.
Achilles: I didn't even know who the Shadow Thieves were until now. I'm still not entirely sure. Then, there's the part where the villain approaches us in a hilariously transparent disguise we're obligated to fall for. My eyes nearly rolled out of my head when a mysterious character named "Koveras" showed up.
The Grognard: Yes – that was the "infuriatingly obvious frame-up that everyone nonetheless falls for" section of the plot.
Achilles: Then, to top it all off, he also had doppelgangers infiltrate and sabotage other merchant leagues. Then he killed the leadership of the Iron Throne and took over himself, but not before framing us. He also made Duke Eltan sick and replaced his doctor with a doppelganger. It's a good thing these doppelgangers are ridiculously easy to spot, and happily reveal their true identities under casual questioning, or Baldur's Gate could really have been in trouble.
The Grognard: Doppelganger plotlines are almost always disappointing in RPGs. They start out high-concept and then end up rushed in the execution, probably because of time constraints. The same thing happened in The Witcher 3 – an elaborate doppelganger plotline got teased and then just kind of fizzled out.
Achilles: There was that scene where "Elminster" and "Gorion" showed up in the catacombs under Candlekeep. They at least were halfway convincing. My point is that this game got real complicated in the final ten hours or so, and I'm still not entirely sure what happened.
The Grognard: Long story short, Sarevok wanted to start a war with Amn. He figured enough people would die that he could "ascend," and become the new Lord of Murder.
Achilles: This procedure for becoming a God is a little vague on the details. But in the end, I foiled his plans, presented proof before the city's nobles, and he fled into a previously unmentioned maze below the thieves' guild, which led to a previously unmentioned hidden city.
The thieves' guild maze. If you've ever wanted narrow, winding passages, endless enemies and traps, a repetitive tileset, and terrible pathfinding AI all in the same package, the thieves' guild maze is for you.
The Grognard: You seem unsatisfied with the story's conclusion.
Achilles: There's a bit of a shift. You go from a carefully placed whodunit into an info dump pretty quickly. At one point I found Sarevok's journal and it was practically novella-length. I skimmed it. I expect the developers probably hoped players would read that journal, but I'm gonna be honest: I skimmed it. It's a familiar feeling: you get to the final third or so of a big RPG, and you find yourself rushing towards the end.
The Grognard: That's a familiar feeling?
Achilles: Familiar to me, at least. Once I can see the ending of a game on the horizon, it somehow seems less real to me.
The Grognard: That means that it felt real to you at some point, though. In my opinion, the thing this game did best was its sense of place. There's care put into everything – the art, the dialogue, the items, all of it.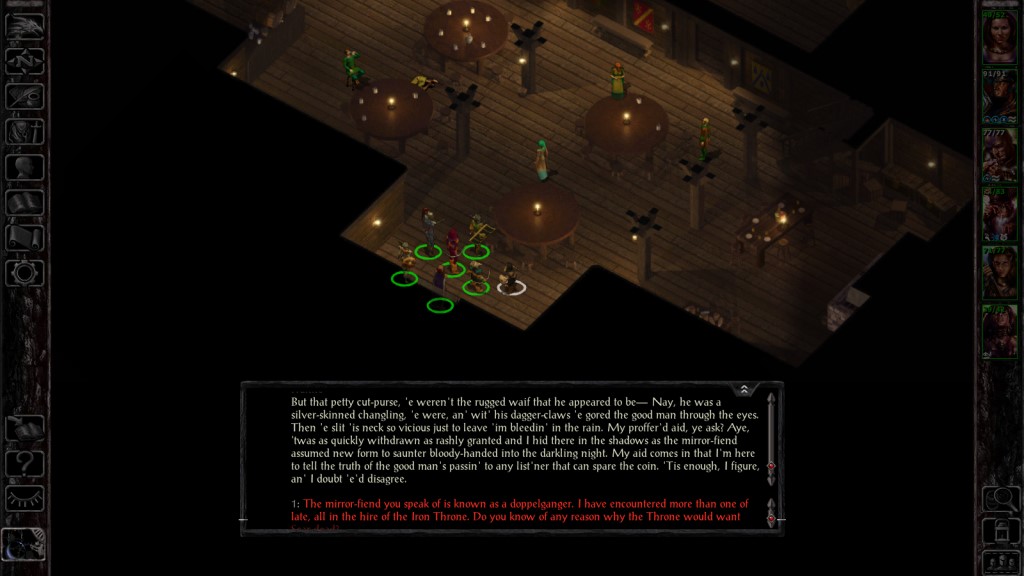 Often, characters speak in I've come to call 'Forgotten Realms-ese,' a dialect unique to the setting. It sometimes bumps up against being cheesy, but also has a memorable character.
Achilles: So much so that it's crazy how few people worked on the damn thing. If the credits are anything to go by, the dev team was barely indie-game sized by today's standards. But they put this game out in '98, a big expansion out in '99, and then an entire, even bigger sequel in 2000. And that was two years before monster energy drink was even invented. How did they do it?
The Grognard: Unfortunately, I think part of the answer is the same as it always is: crunch. But the other part is the tools. The Infinity Engine was easy to work with – easy to get a lot of content out quickly.
Achilles: I was thinking about how this game was one of the first to have an extensive mod scene. Wasn't it? Even hobbyists tinkering with .ini files at home made some pretty extensive additions. There are mods – not just one but several – that pretty much entirely rebalance the game, and others that fix huge lists of problems. To the point where Baldur's Gate belongs to the modders as much as it does anyone else.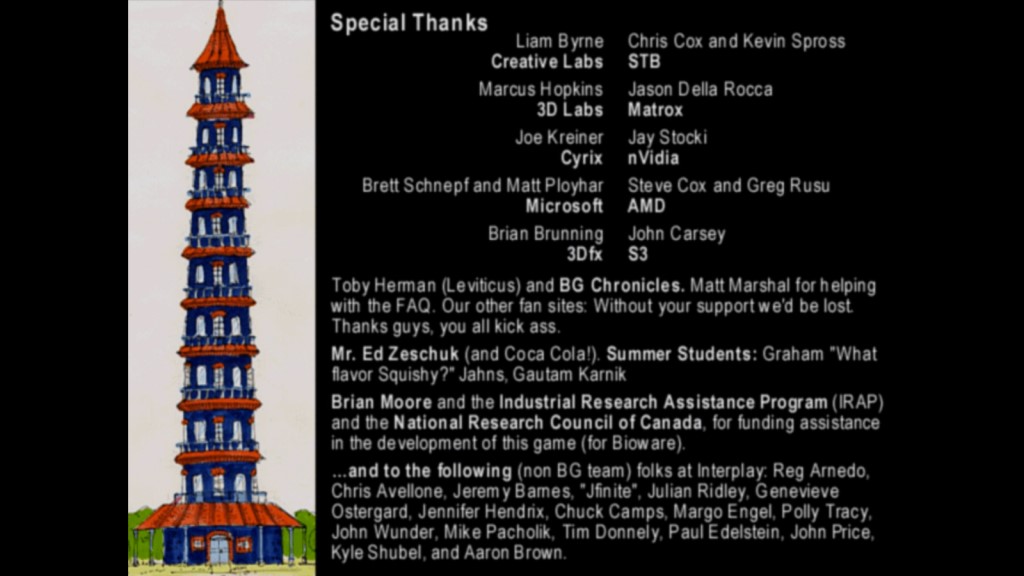 I honestly think the credits may have been made in MSPaint. A part of me prefers the fly-by-night charm of early Bioware to the polished AAA behemoth they became.
The Grognard: So – final verdict? You said you were going to have to break it to me gently how overrated the game is.
Achilles: I may have softened that opinion a bit. But this game is far from perfect. For one thing, I never felt that much in the way of emotional stakes. I think I was supposed to hate Sarevok and love giving him his comeuppance. But honestly, I forgot about the guy entirely for the whole middle third of the game. He killed Gorion, sure, but I'd only met Gorion like two minutes earlier.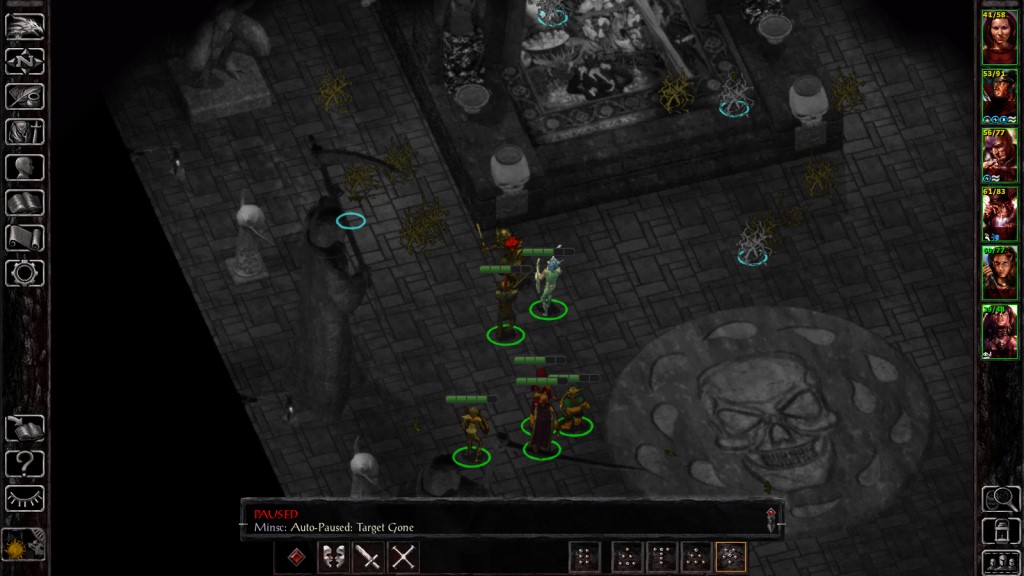 The death of the hated Sarevok.
The Grognard: Without giving too much away, I think you may like the second game more on that count.
Achilles: Then, there's all the filler. Too many of this game quests are one-step throwaways. Some of them are so glib they seem like they're just in there as jokes. Too many trash mob pulls on too many nearly-identical maps.
The Grognard: I believe you may be pleased on that point as well. Anything else?
Achilles: For the love of Tyr, please more variety in the tavern music. I spent countless twenty-minute inventory-juggling sessions listening to the same two goddamn Renaissance-faire sounding tavern songs. I refuse to believe the denizens of Faerun haven't murdered all the tavern musicians by now for insisting on playing the same two songs over and over and over again.
The Grognard: That… well, two out of three ain't bad. We'll start up on Baldur's Gate II next time, and we can all first first-hand just how far the genre has fallen since 2000.
From The Archives: