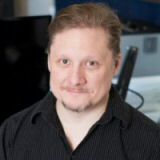 Beware the player who doesn't have a character in play. He's probably bored and doesn't have anything constructive to do. He will most likely amuse himself by thwarting your efforts to put one over on the GM, and acting as a rules lawyer for the prosecution. Worse, he doesn't have an in-game persona on which you might focus your revenge.
The best remedy for a situation like this is to use quick, firm blows to the face and back of the head. Since he doesn't have a character you can't be accused of LARPing. Some games have house rules against hitting people, so it's best not to ask permission first.


Shamus Says:
A four panel comic! Amazing!
I've already made a big deal about how I struggle with the three-panel joke. Even at my most concise, I seem to end up with four instead of three. In the 150+ strip run of my other webcomic, I think I've done a three panel joke twice.
Shawn Says:
I'm a big fan of the pigs that were alive one moment and then became long dead in the next panel.
Marcus ends up doing this fairly regularly, pointing out things Casey's forgotten that end up making everything worse for our heroes. It's an admirable character flaw.
From The Archives: