Last post I covered most of the Kaer Morhen sequence, and called it "Part One" even though "Part Two" is really its own sequence. (Hence this entry's awkward title.) This is where the game makes an important transition from being one about Geralt to being one about Geralt and Ciri.
Geralt remains the player character 90% of the time, as he did in the first part of the game, but the narrative (of the main questline at least) makes a passenger of him much of the time – it's Ciri, as often as not, who's making the decisions and moving the plot forward. While this is happening, the game does something very clever. I'm going to be coy and not tell you what it is yet, though I expect many of you have already guessed.
But I'll give you a clue and say the first part of the clever thing involves a snowball fight between Geralt and Ciri. The Elven Sage, Avallac'h, is one of the few people who understands how Ciri's powers work, and, in a bit of a disorienting time skip, we learn she's been training with him long enough to become frustrated at her own lack of progress. She vents to Geralt, and hidden behind an innocent-looking dialogue option is the option of having a snowball fight with her.
(Ciri, incidentally, is a terrible snowball fighter. She takes way too long to put a snowball together, doesn't know how to lead a dodging opponent, stands in one place for too long, and doesn't make any decent attempt at evasive maneuvers, despite her teleportation ability! I personally was disappointed with her on Geralt's behalf.)
It's the first of several choices Geralt can make on how to interact with Ciri, which will become important later. It's also a good tonal antidote to the darkness of Vesemir's death. CDPR has demonstrated several times that it has a better grasp of tone than most developers. In lesser hands the entire Witcher franchise might have ended up mired in an endless swamp of grimdarkness. Instead, it makes good use of variety and contrast.
Yen can't fool me. I know an incoming group of quests when I see one.
Some dialogue during this section sets up the next few quests: recruiting members of the Lodge of Sorceresses and finding ways to undermine the Wild Hunt. But first the game takes an unexpected left turn – a long, mostly on-rails run of encounters that I personally found rushed and disorienting. First, Ciri wakes Geralt up and tells him that she knows where Imlerith is. Imlerith is the member of the Wild Hunt who killed Vesemir, and a character I was barely familiar with at all up until this time during my first playthrough.
Imlerith is partying with the Crones of Crookback Bog on Bald Mountain during an annual celebration they hold there called the "Witches' Sabbath." Geralt and Ciri head there, but first they have the option of taking a detour to Vizima to see the Emperor. I initially skipped this option, reasoning from an RP perspective that Emperor had both means and motive to simply take Ciri captive once she was within his power. However, he doesn't do that, and Geralt has the option of either taking a hefty payout for his services, or if, he turns it down, he gets a swanky new horse.
This section of the game also hits you with a lot of rapid-fire lore dumps, and rather inexpertly by CDPR standards.
Then it's on to Bald Mountain to confront both Imlerith and the Crones. Much like the Novigrad sequence, this whole series of events gave me the impression that the developers were trying to tie up as many stray plot threads as quickly as possible. My guess is that the Bald Mountain section was put in to polish off the crones and give the player an opportunity to avenge Vesemir's death. The problem is that I was only vaguely aware of who Imlerith even was – before now, I had thought the guy who killed Vesemir was just another nameless Wild Hunt soldier. Unless I'm mistaken, you don't even see his face until you fight him.
Keep in mind that it was only maybe an hour of gameplay ago that Vesemir died, this revenge seems a bit hurried and half-baked. The sequence is redeemed – a bit – by insight into how the worship of the Crones in Velen is set up, and what the locals believe. This is the sort of thing the Witcher series' writers are good at – a convincing, imaginative, and creepy folk religion. What's more, those who believe in it are not just fanatical cultist types, but poor rural people who live a hard life and take what small bits of hope and meaning are available to them.
I think CDPR's writers, at least in the context of the Witcher universe, are better at telling small stories like this one than big ones. Or it may be the universe itself. I always preferred Sapkowski's short stories to his novels. It seems that in a fantasy setting like this one, the greater the stakes get, the closer the style runs to familiar cliches.
We get to see Johnny again at the Sabbath. I always like meeting characters from earlier in games again - it gives the game a sense of solidity and reality.
Geralt and Ciri need a way to be invited to the top of the mountain, resulting in a short jaunt where Geralt retrieves a coin from the bottom of a lake, then fights a Fiend on his way back up the slope. Then, halfway through looking for Imlerith, Geralt and Ciri split off, with Ciri heading off to track down and kill the Crones. It's not bad as boss fights go, but I can't help but think that it diminishes the formerly demigoddess-like Ladies of the Wood to reduce them to an enemy you can defeat by hitting them with a sword enough times. But hit them enough times Ciri does, killing Whispess and Brewess before Weaves steals Vesemir's Witcher medallion off of Ciri's neck before escaping. With luck, you'll never see it again, for reasons I'll have to explain much later.
Meanwhile, Geralt finds Imlerith at the top of the mountain. I like Imlerith's design. Instead of some slender, graceful finesse fighter, like the standard-issue elf, Imlerith fights with a big shield and a huge club-thing. I had to get behind him for Igni to do any damage, so this fight tended towards the tedious, but with normal equipment it's rather fun, with a second stage where he starts teleporting all over the place. (Does this break the lore? I thought the Wild Hunt needed one of their "navigators" do to that.)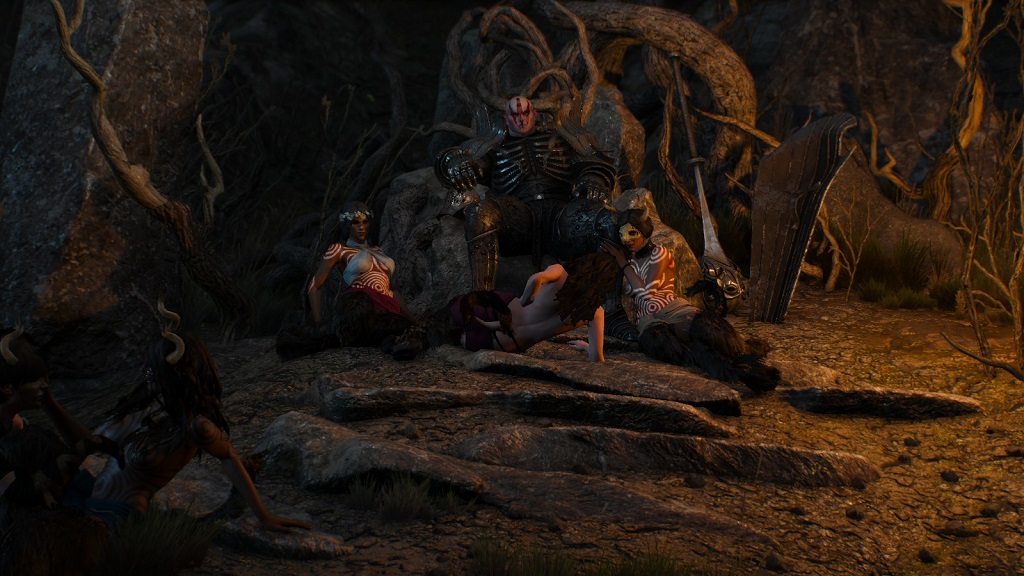 Imlerith. I'm 85% sure there are no visible nipples in this screenshot, which is more down to blind luck than anything else.
Like I said, the whole Bald Mountain sequence felt disjointed to me, like they had more extensive plans for each of these plot points but had to scramble at the last minute to tie them all up before release. That said, it's notable how even the weaker parts of the Witcher 3 are still fun and memorable.
After this uncharacteristically-long on-rails sequence the player is finally – after several hours – returned to the open world again. There, Geralt has four different quests to wrap up before the endgame proper – but, just as notably, this is the most convenient time for a typical playthrough to handle the expansion (Hearts of Stone and Blood and Wine) content. However, that's not what the next entry is going to do. Instead, we're going to finally learn that Avallac'h's deal is, and get a sense of what the Wild Hunt is all about as well. See you then.
From The Archives: