It's accidental Batman week here at Twenty Sided. I was planning to post this last week, but had to delay, so here it is. In this series I'll be writing my opinions about the general Batman zeitgeist, where I think it's gone right, and where I think it's gone wrong.
What it looks like when it's going right.
I decided at a very young age that Batman was my favorite superhero, and I've stuck to that decision since then.
I was very much into Batman as a kid. Once, when we went to drop my Dad off for a flight, I wore my Batman costume to the airport. It wasn't Halloween or anything. I just wanted to wear my Batman costume.I regretted that decision once we got inside. I didn't like attention, and I didn't anticipate how much attention I would draw by wearing a Batman costume to the airport. I even liked things that were Batman-adjacent. Somehow I learned that Batman had been partially inspired by Zorro, so I became a Zorro fan too.
Looking back, I'm not quite sure what it was that enchanted me so much about the character – what Batman had for a young me that other superheroes didn't. I suspect I was attracted to the versatility of the character. On the one hand, I knew the character could be, and often was, dark. On the other, I watched the Adam West show religiously. Neither dark Batman nor Adam West Batman seemed either more or less Batman than the other. Which meant that if I wanted to pretend to be Batman, which I often did, there was plenty of freedom of tone in that fantasy, which was a great relief to me during the confusions of preadolescence.
This quality is still what intrigues me. At this point Batman has been done by so many different creators, for so many different audiences, in so many different styles, in so many different formats, and in so many different decades, that he's almost taken on the feel of a public-domain character, like Robin Hood or Dracula. In fact, I wish Batman was a public-domain character. I have no strategy in mind for exactly how to persuade his owners to give a lucrative franchise away to the public for free, but maybe some bigwig at DC is reading this right now, ready for a road-to-Damascus moment.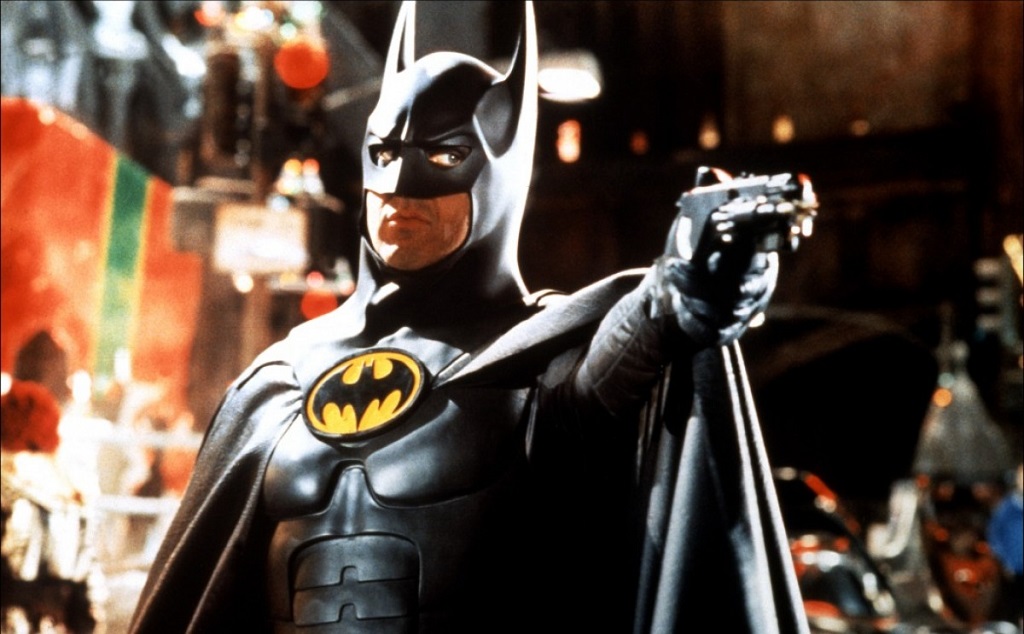 As I understand it, Keaton couldn't move his head while in this suit. His performance while in the costume had a quality of stiffness, almost frustration, that somehow fit very well into the movie. Also, do you remember when Michael Keaton played Batman and it worked?
The reason I wish this is that Batman has been losing his versatility for a while. Even in the eighties and nineties, there remained a tolerance for the madcap, either in the grotesque (Tim Burton) or exuberant (Joel Schumacher) styles. But now the once-chaotic waters of Batman seem to have stopped stirring, and the sediment is settling at the bottom of the glass.
What I'll call "modern" Batman exists roughly at the intersection of Alan Moore, Frank Miller, Christopher Nolan, and Zack Snyder. As meals go, this one is all meat and no veggies, and certainly no dessert afterwards. It's also all very Adult and Literary, and in the long run may result in a tragic shortage of Batman costumes worn to the airport.
I don't claim to know why this is happening. You'd think a variety of Batmans, designed for a variety of tastes, would be more profitable than one single Batman designed to serve one relatively narrow (though apparently quite lucrative) demographic. But hey, that's why they don't pay me the big bucks. Whatever the reason, the vitality of Batman is being slowly constricted by increasingly-specific habits, like an actor with a mostly comedic background being squeezed into an inflexible rubber suit.
Worse still, these habits, which I'll start to get into next week, are of mixed quality. Some are rich in possibility, while others, in my opinion, have become distractions. In examining them, I hope we'll come to a more complete understanding of what Batman was, what it is, what it should be, and what I'm worried it will become. See you next Wednesday, same Bat-time, same Bat-place.
Footnotes:
[1] I regretted that decision once we got inside. I didn't like attention, and I didn't anticipate how much attention I would draw by wearing a Batman costume to the airport.
From The Archives: