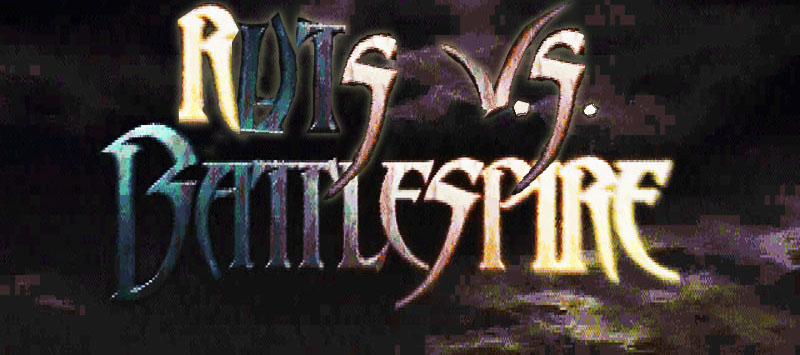 By
Rutskarn
on Wednesday Mar 16, 2016
Released in 1996, The Elder Scrolls II: Daggerfall is one of the most seminal genre-transforming RPGs ever released.
Released in 1997, An Elder Scrolls Legend: Battlespire is an RPG.
Daggerfall features gameplay that innovates on nearly every feature of the series. It uses its open world and nonstandard player goals to directly challenge the idea fantasy games should be fun-but-linear dungeon crawl experiences.
Battlespire features gameplay.
Daggerfall is broken, shabbily designed, clearly at the limits of its developer's ability–but through the strength of its core design it emerges as a loveable experience, extraordinary for when it came out–even enjoyable by a certain kind of modern player.
We're going to be playing Battlespire.
You might think that this is one of those old fantasy games full of cheap titillation. So, go ahead.
Don't expect me to give much background. The game's "best" experienced completely fresh. I know this isn't a high bar, but it's by far the most surprising Bethesda game I've ever played (this isn't counting the NGAGE titles, which nobody played). If Morrowind made me feel awe and Skyrim made me feel powerful, Battlespire made me feel like there was a hidden camera in my Del Taco bag. It's like meeting your best friend's brother and discovering he wears tweed trenchcoats, speaks in a crooning, giggling whisper, and is pathologically obsessed with collecting six-inch porcelain dolls. Any of the three would be a little odd. Observing all of them over the course of one ebelskiver brunch guarantees you're only seeing the tip of the iceberg, and you can't help but wonder: how can these two individuals be related?
We've got to start somewhere. Let's start with the pre-rendered opening cutscene. Fun fact: that's the first pre-rendered intro in TES history. I guess they had to start somewhere too.
What have we learned? Well, our character–apparently a "he"–is an apprentice battlemage being sent for some kind of final exam that will turn out to be really dangerous. Additionally, a butt exists. Battlespire. Now off to character creation, which, given the very specific things we've learned about the PC, you might be surprised even exists. But it does. Oh, it does.
Which of these National Geographic photos does YOUR character hail from? I find it a touch odd that the caption goes out of its way to inform you that Redguards, people who apparently come from some sandy rocks, are not creamy-hued gingers. They also 'seem to have been born for battle,' unlike all of the other playable races in this game based exclusively around combat.
The first minor twist is that despite the sticky pronoun in the main cutscene, you can absolutely play a woman. My guess is that the cutscene, pre-rendered and trailer-worthy, was probably made very early in development. The ability to create a female character could well have been something put in at the last minute–and only once they were sure they'd have time to produce audio and art assets not critical to their young adolescent male market.
None of this talk of skill bonuses means much until I know what we're working with, so until I've seen the next screen, let's tentatively roll with a Wood Elf, a race noted for being "nimble" and "quick as the wind." Clicking the grainy little Kincade fades things to black before greeting you with this:
Jeepers.
What we're looking at right here is an elf who knows about the finer things in life. Chicken breasts. Squats. Nipple grease. Ironed thongs. Steam hissing out of busted vents in the background while industrial machinery pumps rhythmically. The sound pavement makes when massed groups swoon in unison. This elf is not nimble; he needs a hydraulic press to bend his knees tighter than 45 degrees. This elf does not know that pants exist because people are afraid to bring it up.
I can't think of a contemporary comparsion to this. Fantasy games of this era trade pretty casually on pin-up women, but it'd actually be hard for the female avatar to more gratuitous.
Thankfully, somebody was willing to go the extra mile. How come she doesn't get a loincloth? Ask Bosmer Schwarzenegger if he's got a spare. You could knit a ballgown out of the basket alone.
Once I'm past that, I get a look at the guts of the character creator. The game technically lets you use a premade class, but the customization setup is pretty ambitious: it's Daggerfall with all the really obvious vectors for exploit, and stuff that only makes sense outside a dungeon environment, pruned away. The game presents you with one universal currency, character points, which you spend purchasing hit points, skills, stats, gear, and special abilities. I take some time to peruse it while reviewing the game's storyline and planning my backstory. Before long I can see many reasonable, balanced, and lore-friendly possibilities. I'm sure somebody would have a really good time with one of them.
Here's my character. Since the game has already explained you're a novice battlemage, he's a swordfighter with no magic whatsoever.
EeeeeeaaaAAAAAAaaaa
Name: Cahmel Fightman
Likes: Protein, Swords
Burning Terror Of: Magic, Fighting, Monsters, People Being Able to See His Underpants
Now that I have my concept and aesthetic nailed down, time to pick or make a class. Personally, I'm sold on the custom approach. Let's give this guy a complete, balanced build to go with his complete, balanced build–much better than giving him a developed package to go with his ANYWAY LET'S MAKE OUR OWN CLASS.
This is the main page of the make-a-class screen.
See if you can guess all the vectors for sploits and minmaxing. Go ahead, guess.
Remember: Cahmel Fightman is a swordfighter. Anything not useful to fighting with swords and defending oneself from attacks is probably secondary to our interests. Let's make the most of these 4,700 character points.
The first thing we're going to do is drain the stats we're not interested in and put them into his key areas. Most modern games only let you increase stats–they don't let you lower one beyond a very reasonable level. I wonder why they started doing that?
So now that I've maxed out Strength, Agility, Endurance, and Speed, I've spent a grand total of…negative 76 points. Cool. Time to put some of those savings into his skills.
Or not. Turns out skills don't cost anything to buy–you just get three primary, three major, and six minor picks, like in the main games. So let's see. For our first pick, we're going to want Long Blade–obviously. For our second, let's pick…oh, no armor skills, huh? Okay, so how about Dodging. And for our third pick…
…uh…
…Jumping? I guess that could come up? Huh.
Well, I guess that's my primaries taken care of. Now to pick nine more skills in exactly the order I'm likely to use them.
Five minutes later, I've got my build:
So far I've got everything I need and I haven't spent a single…wait a minute. What's those arrows on the sides of the skills? Are you telling me I can–
Yes.
I think it's time to give serious consideration to Advantages and Disadvantages. Right off the bat I'll pick No Regeneration of Spell Points as a Disadvantage for a hefty reward. I'm not proficient with anything but swords, because I'm not a degenerate, so let's bar maces, axes, daggers, and bows as well. Good riddance.
I should probably spend some of these points, shouldn't I? Why don't I become immune to something?
Why don't I become immune to everything?
That's magic, fire, ice, lightning, and poison. I also threw in health regeneration while I was at it. Gotta treat yourself.
Cahmel Fightman majored in Long Blade at Cyrodiil State University. While it was his desire to pursue a doctorate and teaching credentials, a scandal involving a damp towel and crock pot full of baby oil got him banned from campus for life. Drowning in loans and determined to do as little fighting as possible, he took the first job he could get, which was working customer support for a scroll merchant in Bravil. Six months of troubleshooting magical spells have made him dimly familiar with every kind of magic and absolutely exemplary at dodging. Eventually a malfunctioning shield scroll and irate archmage left him with perfect immunity to everything but being knocked senseless with a walking stick in front of all the hot potion counter girls.

Since all the work experience on his CV is spell related, his only recourse after getting fired was the Imperial Battlemage Academy. He has been avoiding his final examination for twelve months after qualifying. Somebody told them there's monsters in there.
Can't wait to get this show on the road. However weird this game is, it can't be half as bizarre as its character creation.
Next time: I was wrong.