Feros is the most "Classic BioWare" of the planets. It's packed with story beats, themes, and plot elements ripped from earlier games. You've got the bog-standard optional "help these villagers gather resources they need to live" type questing, you've got some charmingly lame puzzles, and you've got a little bit of local politics and personal drama for flavor. This would be my favorite location in the game if it wasn't all the same unendurable shade of beige.
A lot of games from this time period made the mistake of making a world of tan and grey, but this particular example really bothers me. I can tolerate it if the people developing the Military Manshoots of 2007 thought that concrete dust and rubble was just the "most realistic" and therefore "best", according to the artless simplistic tastes of the day. But here? On a strange and distant world meant to evoke a sense of wonder and alienation? I can't help but feel like the people who designed this place should have known betterAnd perhaps they did, but were pushed to make it "more realistic" by some hack who doesn't deserve his job..
Fridge logic: How did the massive ruins on this world escape the Reaper mop-up crew? Did they overlook it because of the cloud cover? Because those buildings sticking out seem kind of... obvious.
You could go either way. You could make the old parts of the planet – the ruins and underground caves – look vibrant and full of color, and make the prefab human housing look drab and boring. This would make the human stuff look ordinary and pedestrian in contrast to this alien backdrop. Or you could go the other way and have the human structures be bold and garish against the understated backdrop of the ruins and nature. Perhaps human stuff would be painted, or made of colored plastic. This would make the human structures stand out as new and out-of-place, like building a McDonalds in the Greek Parthenon. Either way, there should be stark contrast between new and old.
And no matter what, the Thorian should have some kind of green or yellow motif, even if it doesn't photosynthesize with chlorophyll like Earth plants. It's mind boggling that the exact same color palette is used for the human colony, the Prothean ruins, the ExoGeni Offices, and the Thorian caverns. What a wasted opportunity.
Zhu's Hope
Welcome to Planet Skybox!
The outpost of Zhu's Hope feels a lot like a remix of the Mother quest from Jade Empire. (Which itself borrowed a little from the Rakghoul plot in KOTOR.) You enter a small community of odd people who are suspicious, unwelcoming, and secretive. Their dialog doesn't make a lot of sense and it sort of feels like you've stumbled into a cult. Then after some screwing around you make it underground to find everyone was being controlled by a huge monster. Then you beat the monster and everyone is set free.
Some people fault BioWare for this very trope-y approach to stories, but I didn't mind. Ok, maybe if they did this story a third time it would have been pushing their luck, but this is an interesting idea for a location. The cult-like atmosphere gives the monster a certain mystery and build-up, so that heading underground feels tense. You really have no idea what you're going to find or how you're going to deal with it. The reveal of the monster is creepy and the post-monster denouement is a great chance for character interaction and contrast.
It's a solid hook for a story. And given that so few people played Jade Empire, I don't mind that it was given another chance here in Mass Effect. Speaking of the monster, let's talk about…
The Thorian
I wonder what would happen the Poison Ivy (the Batman Villain, not the plant) met the Thorian? I'm betting it would create a problem you couldn't solve with batarangs.
Yes, they've done the "underground monster enslaves a village" idea before, but this time around they really ran with the idea and explored it in greater detail. In Jade Empire, Mother was just an angry monster, but the Thorian is given some depth and complexity. When I talk about "big idea sci-fi", this is exactly the kind of stuff I'm looking for.
The Thorian is a plant the size of a building, hidden deep underground. It has lived for tens of thousands of years. Its roots (or tendrils, or whatever they are) reach for at least a few kilometers, and nobody really knows where they end. It sends out spores that are inhaled by mammalsNot actually mammals, since Earth animalia classifications wouldn't necessarily fit on other worlds, but you know what I mean. and work their way into the nervous system. The Thorian is then able to control the victim by prompting the creature to take action and inflicting pain if it resists.
For the most part it leaves its thralls to live their lives, breed, and do whatever it is that they do, but it can direct them to action if it needs to defend itself. The Thorian doesn't really think or measure time the way we do, and it's not even sure of its own age. It spends most of its time dormant, but will rouse itself once every few millennia when it needs to take some action.
That's a pretty radical idea for a life-form. That's a long way from the usual human-sized biped that carries a gun and hides behind cover. The Thorian is strange and unsettling and more "alien" than anything else in the game.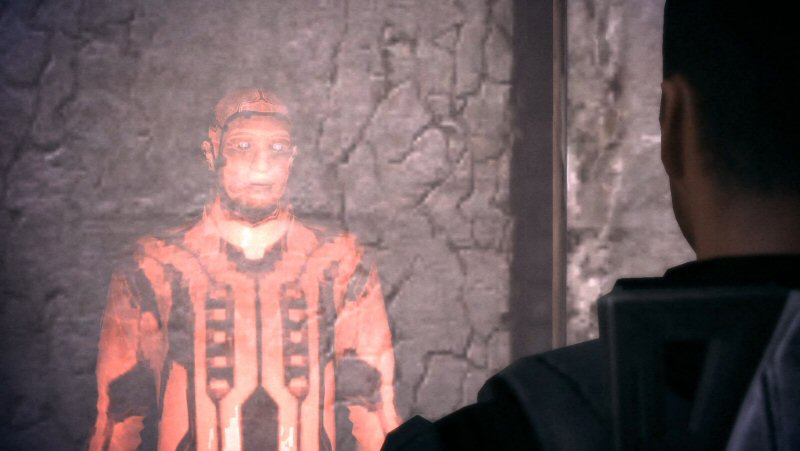 Please wait. Caching exposition buffers.
In the case of Zhu's Hope, the ExoGeni Corporation has deliberately placed some of their personnel in living spaces directly over the Thorian to see what the effect would be. Embarrassingly, one of the computer VIs in the ExoGeni offices refer to these people as the "Control Group". Uh… no, silly computer man. If there was another group of colonists NOT living next to a mind-controlling Elder Plant and you were comparing the two, then the non-enthralled people would be the control group. These people are just unwitting test subjects. If this blunder was made by one of the employees I might assume this was to show that ExoGeni were not very good at science. But since this was stated by the VI, I have to assume whoever wrote the dialog didn't understand what a control group was. Oops.
But the Thorian isn't just a sideshow freak for nerdy fans of space opera. Its nature and its lifespan are directly relevant to the plot.
Back on Eden Prime, Shepard interfaced with a Prothean beacon, but all he saw was a scrambled flash of images of circuit boards and meatUgh. Am I the only one who thought the visions had a kind of "Stock Photo hallucination" feel to them? with no other context. The beacon was a device that enabled Protheans to communicate with each other mind-to-mind, over vast galactic distances. But since Shepard doesn't think like a Prothean, the message is all garbled.
Brace yourself Shepard. This is going to be like a Vulcan mind-meld, except with a hot chick instead of Leonard Nimoy.
The Thorian has been alive for so long that it actually had Protheans as thralls at one point. The Reapers purged the Protheans, but the Thorian lived on, its mind preserving Prothean language and culture long after they were gone. Here, fifty thousand years later, the Thorian picked up an Asari thrall, and through the Thorian she was able to learn about how the Prothean mind worked. Once Shepard deals with the Thorian, she is freed and able to share this knowledge with him. This knowledge lets him understand the vision more clearly and (as we learn later) grants him the ability to understand the Prothean language.
On the first world, Shepard saw a vision, a message from a long-dead civilization. On this world, Shepard has learned the language, culture, and mental patterns of that long-dead race. Shepard isn't the "chosen one" according to some deity or space-prophecy. And Shepard isn't special because of his ability to dispense space-bullets. Shepard is special because of the knowledge in his head. That knowledge wasn't just bestowed in a single act, but was something the player earned over the course of an entire videogame.
And then Mass Effect 2 didn't know what to do with that, so it decided he's a "hero and bloody icon".
ExoGeni Offices
This room is different from the previous room because there's slightly more rubble and the chest-high wall is in a different position.
As Much as I love the events on Feros, I will say this is some of the worst environment design in the gameAt least on the main quest. You can make the case that the empty planets are worse, although they're less painful by virtue of being shorter and more open.. It's even worse than Therum. The copy-paste hallways of the ExoGeni buildings are confusing, the visuals are a dreary monochrome, the lighting is flat, and the stairways make the map confusing to read without making the place interesting to navigate.
The scenery doesn't even make sense. The offices are built in old Prothean ruins, and the place is falling apart. Did the company really move into this place of collapsing walls and floors and staircases and just set up their desks in the rubble? Do the office workers navigate this maze of barren rooms every morning and then stand ankle-deep in broken concrete and hope the ceiling doesn't fall on them today? Or are we supposed to assume that the Geth did all this? Did they come in here and demolish all these staircases? I wouldn't expect the game to waste resources showing us where the executives eat and sleep, but having a (decorative) locked door in a clean room with creature comforts would go a long way at selling the notion that human beings live nearby.
Zhu's Hope looks like a place where people might live: Beds, shelter, desks, crates of supplies, lights, and walkways. By contrast the offices – where the white-collar types work – look like one of the subway tunnels in Fallout 3. There are no seats, no storage, no furniture, no supplies, and no signs that people used this place for anything besides storing computers and rubble.
Footnotes:
[1] And perhaps they did, but were pushed to make it "more realistic" by some hack who doesn't deserve his job.
[2] Not actually mammals, since Earth animalia classifications wouldn't necessarily fit on other worlds, but you know what I mean.
[3] Ugh. Am I the only one who thought the visions had a kind of "Stock Photo hallucination" feel to them?
[4] At least on the main quest. You can make the case that the empty planets are worse, although they're less painful by virtue of being shorter and more open.
From The Archives: