Hello all, we're now live on the new host with the forums. Please use this thread to raise any issues you discover (hopefully none).
It's alive! Thank you, sir!
Dark Theme works. That's all!

(and thanks, it's great to be back!!)
Would it be possible for "forums.shamusyoung.com" to redirect to "shamusyoung.com/forums"? I've got years of muscle-memory of relying on chrome autocomplete: "sha" to open the blog, and "for" to open the forums. I've inadvertently done google searches for the word "for" an embarrassing number of times in the last week.
Obviously this a really trivial issue, and I'm sure I'll eventually adapt to the new system, but on the off-chance that it'd be easy to set up a redirect, I figured I'd ask.
TL;DR: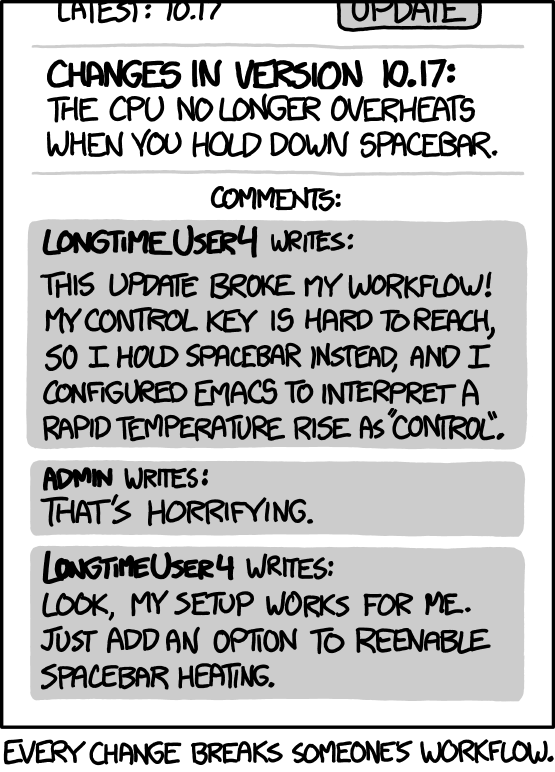 Dont know what browser you are using,but you should be able to add "for" in the list of search engines.Thats how I solved the problem.Now instead of opera googling "for" it automatically goes to here.
Location: California
I agree that might be nice - I thought these were still down until today because my old link was still not working, and just decided to try the site link on a whim.

Or maybe something else was wrong on my end, I don't know. Either way, wooooo forums back.
Hah, count me as another who got blindsided by the missing subdomain. Geez, one week already huh?
Contact:
For me, it's that I get here through FF's url autofill. I came here so often, I just needed to press 'f' and this was the first thing to pop up.

Side note: About the whole fracas regarding some of the themes causing problems, in the end, was it confirmed the themes were the cause and can't be returned? I really liked the one I was using...even if I can't remember what it was called. :P
I've raised the 'forums.shamusyoung.com' redirect question with Shamus, but I don't have the ability to implement that myself.

As for old themes, we had to update because of going to a new version of phpBB. Unless a theme is specifically updated for the new version we have to leave it behind.
Contact:
Hmm...should I be Kirk Cameron sad or Nicolas Cage sad...?
Depends on who the theme resembles the most.